Raskin Discusses Cancer Diagnosis and Cura Personalis at Annual Kovach Lecture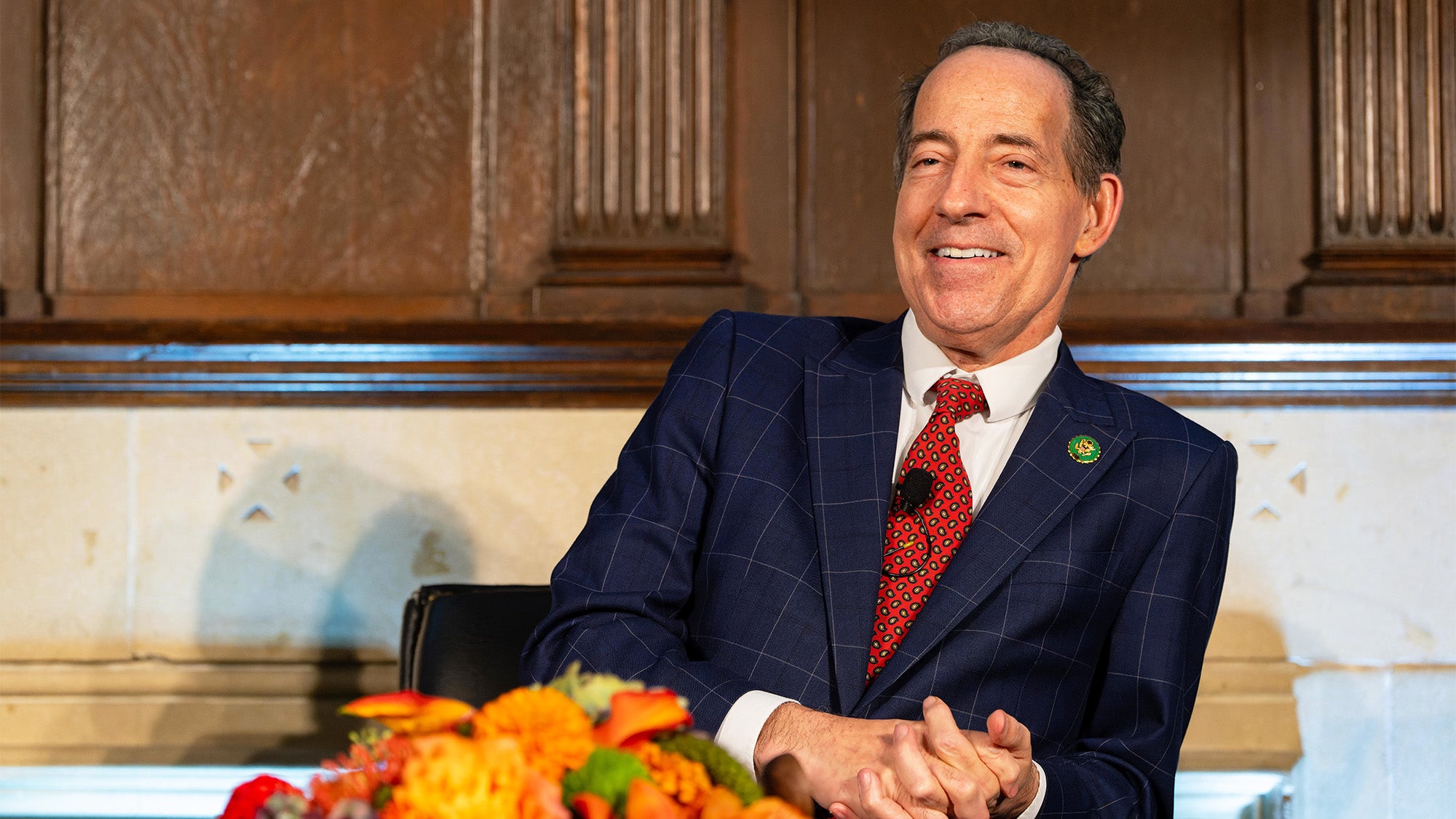 Posted in Lombardi Stories | Tagged cancer, cura personalis, Kovach Lecture
(September 29, 2023) — After being diagnosed with non-Hodgkin lymphoma in December 2022, U.S. Rep. Jamie Raskin (D-Maryland) chose Georgetown University's Lombardi Comprehensive Cancer Center for his treatment. On September 26, Raskin returned to Georgetown to discuss his experiences and thank his treating physician, MedStar Georgetown University Hospital hematologist-oncologist Joseph L. Roswarski, MD, at the third annual Edward M. Kovach Cura Personalis Endowed Lecture.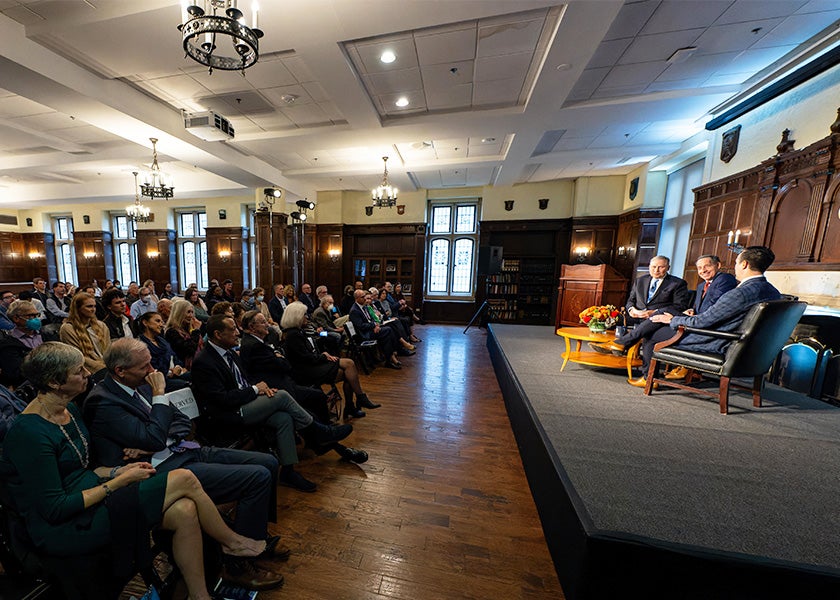 The lecture memorializes Kovach (C'60, L'63), a double Hoya who returned to his alma mater for his own cancer treatment, and focuses on one of Georgetown's core values, cura personalis, or care for the whole person.
Kovach's daughter Alexandra du Pont and his wife, Kathleen, presented Roswarski with the "Wooden Spoon Award" for embodying empathy and understanding in his interactions with patients. The award is named for Kovach's favorite woodworking activity during chemotherapy.
Before an intimate audience in the Copley Formal Lounge, Raskin and Roswarski discussed the importance of patient-centered care in an hourlong conversation moderated by Louis M. Weiner, MD, director of Georgetown University's Lombardi Comprehensive Cancer Center.
'I Didn't Miss a Single Vote or Hearing'
Having been previously diagnosed with and treated for colon cancer in 2010, Raskin's most recent cancer journey began last year when he noticed a swelling on his neck that grew so large he was unable to button his collar. Following a visit with the attending physician of Congress, who referred him to an oncologist, he was diagnosed with non-Hodgkin lymphoma in December 2022.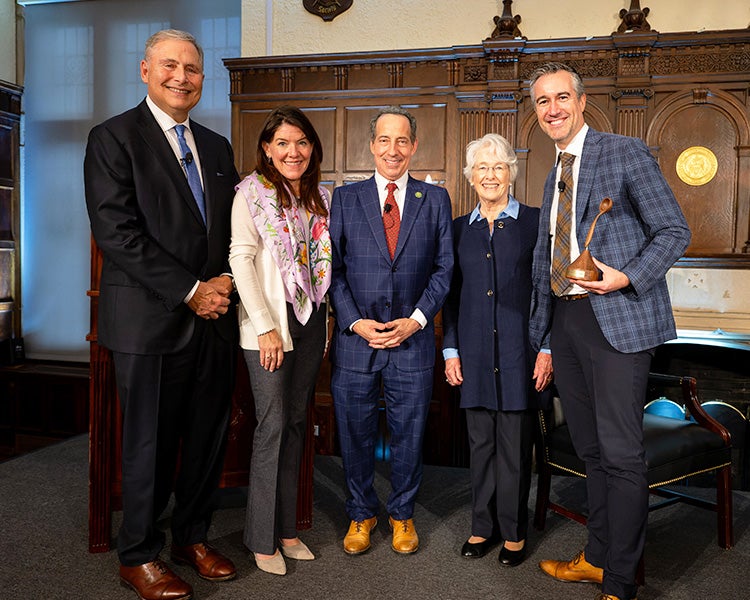 After undergoing an intense regimen of chemotherapy prescribed by Roswarski, Raskin rang the bell at MedStar Georgetown University Hospital, commemorating the end of his cancer treatment less than five months after his diagnosis.
"What you are describing in terms of diagnosis and treatment is every cancer patient's dream," said Weiner.
"Yes," Raskin said. "Except for the parking, I had an extraordinary experience."
Both Weiner and Roswarski recounted Raskin's resilience while receiving treatment.
"I worked with Jamie [Raskin] to keep his goals, which was to keep working on the Hill during treatment," said Roswarski.
"I didn't miss a single vote or hearing," said Raskin. In addition to his superb medical treatment, Raskin found his interactions with Roswarski to be "super kind, super patient."
"I thought this focus on empathy was just for me. I didn't know there was a whole philosophy for all patients behind it," said Raskin, referring to cura personalis.
New Perspectives
Weiner broadened the conversation to ask Raskin if the experience of being a cancer patient facing potential death affected his outlook or priorities.
"I've never really wanted to go to the doctor, and I ate terribly a lot, including fast food hamburgers. But now I'm a vegetarian, although I cheat," said Raskin. "I also never would have wanted to talk about my health in public. But I've changed to see how important it is for people to hear what I went through to deal with their own reality."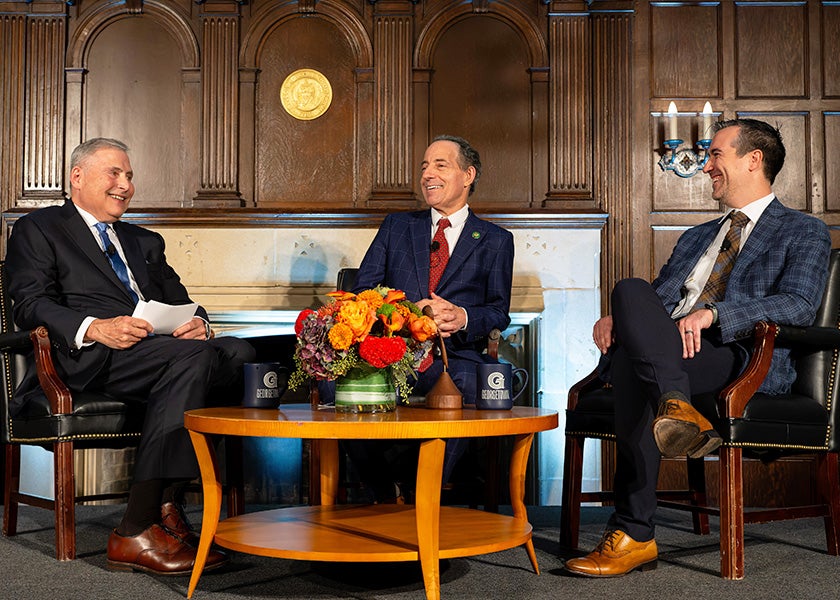 Raskin's mind also naturally turned to politics and the U.S. health care system.
"I'm in favor of national health insurance," he said. "We are the wealthiest society at the wealthiest moment in history. We can afford to provide health care to all of us."
Raskin further made his point by distinguishing misfortunes and injustices in terms of health care.
"When you are told you have cancer, that's a misfortune that can happen to anyone," he said. "But when you receive a serious diagnosis and then can't get health care coverage, that's an injustice.
"We, as a government, can do something about injustices," Raskin added.
Roswarski said that treatment decisions can be affected even when a patient has health insurance. For example, he prescribed a patch for Raskin during his treatment that would increase his white blood cell count after chemotherapy, but the insurance company didn't cover the prescription.
"Maybe if I'd been a senator, they would have given it to me," Raskin quipped.
Before the event closed, Weiner asked Raskin if he had anything else to add about his experience.
"Thank you for saving my life," Raskin said.
Heather Wilpone-Welborn
GUMC Communications