National Hepatitis Awareness Roundtable Featured Georgetown Lombardi, GUMC Faculty
Posted in Lombardi Stories | Tagged hepatitis
Report of National Hepatitis Awareness Month, May 2016
Our thanks to Dr. Chris Loffredo for providing this update.
June 13, 2016 — On May 25, several members of the Georgetown Lombardi Comprehensive Cancer Center and faculty members from the School of Medicine and the School of Nursing and Health Studies participated in a Hepatitis Awareness Roundtable event that was sponsored by the National Health IT (NHIT) Collaborative for the Underserved, Inc., the DHHS Office of Minority Health (OMH), and Georgetown Lombardi.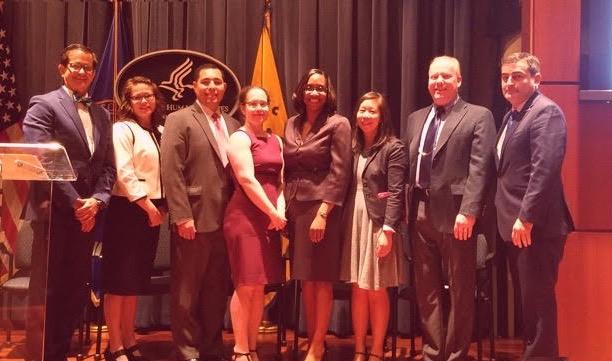 The event, held at the Hubert H. Humphrey Building, headquarters of the U.S. Department of Health and Human Services (DHHS), was designed to draw attention to health disparities in viral hepatitis — specifically hepatitis B and C infections—and highlight the need for further research, education, and outreach to address these important public health issues.
Mr. Luis Belen, Chief Executive Officer of NHIT, coordinated the event, which evolved from several months of planning by a team of Georgetown Lombardi faculty and OMH staff who have also been developing informational fact sheets on HCV and HBV, tailored to specific minority communities in the United States. The Keynote Address was given by Dr. J. Nadine Gracia, Deputy Assistant Secretary for Minority Health and Director of the OMH at DHHS.
The expert panel discussion that followed was moderated by Dr. Joxel Garcia of MD Anderson Cancer Center (former Assistant Secretary of Health) and included Dr. Christopher Loffredo (Oncology), representatives of national private-sector organizations (Hep B United and The National Hispanic and Latino Addiction Technology Transfer Centers), and program directors and advisors from the governmental sector of the public health community (Indian Health Service, Office of HIV/AIDS and Infectious Disease Policy, and Puerto Rico Consortium for Clinical Investigation), all of whom have been leading efforts to address disparities in HBC and HCV.
Additional expert commentary and development of the informational fact sheets was provided by Georgetown University Medical Center faculty members Drs. Brent Korba (Microbiology & Immunology), Judy Wang (Oncology), Sherrie Wallington (Oncology), and Irene Jillson (Nursing), all of whom were in attendance.
The Roundtable discussion noted that HBV and HCV rates are higher in many minority communities in the U.S. than among whites due to many factors, including immigration from areas of the world in which these viruses are endemic. Mortality rates of these infections are increasing and have recently surpassed deaths due to HIV.
Dr. Loffredo noted that the two viruses are also driving the current epidemic of liver cancer in the United States and globally, and that the incidence of liver cancer can be greatly reduced through the control and treatment of HBV and HCV. Vaccination against HBV, curative treatments for HCV, increasing the awareness of these viruses, and the need for screening tests and treatments were highlighted as key preventive efforts that need to be increased and appropriately tailored to affected communities.
Other speakers, including the additional Georgetown University participants, highlighted some of the recent success stories in prevention, as well as the strengths on which to build effective interventions, the urgent need for culturally appropriate and evidence-based interventions, and the real-life challenges that are being encountered.
Going forward, the collaborating organizations will be working on ways to increase the effectiveness and reach of awareness-building initiatives, starting with the impending release of a series of Viral Hepatitis Awareness Fact Sheets focusing on and tailored to the unique situations of African Americans, the African immigrant community, Asian Americans, Hispanics and Latinos, and Native Americans. Specific outreach and evaluation initiatives are being planned in order to capitalize on the momentum generated by the Roundtable event.