Georgetown Lombardi Men's Event Boasts Another Year of Success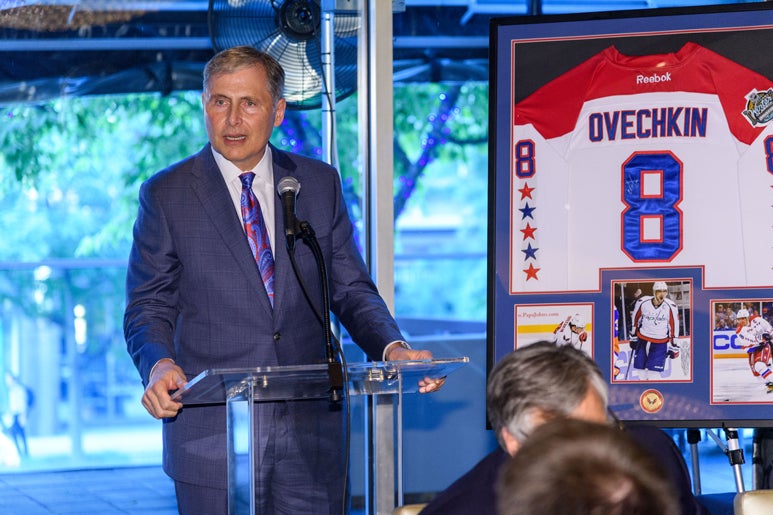 Posted in Lombardi Stories | Tagged cancer research, Men's Event, philanthropy
(June 22, 2018) — The transformative power of philanthropy was on display June 18 as nearly 200 men, representing the highest rungs of Washington's corporate, sports and social communities, attended the 19th annual Men's Event, a fundraiser to support research by Georgetown Lombardi Comprehensive Cancer Center on cancers that disproportionately affect men.
Over the course of nearly two decades, the event has raised about $2.5 million for Georgetown Lombardi, bringing in almost $200,000 in 2018 alone. "I witness the impact of philanthropy in the fight against cancer every day," said Louis M. Weiner, MD, director of Georgetown Lombardi. "We are so lucky at Georgetown to be surrounded by a community of dedicated supporters and believers, and every person in this room is a part of that community."
Innovations in Cancer Treatment and Research
At a pre-dinner briefing, Weiner discussed the new proton therapy radiation center at MedStar Georgetown University Hospital, calling it "a technology born out of an investment in understanding physics and engineering." Proton therapy is used to treat a wide range of cancers, including prostate cancer. Unlike traditional radiation therapy, proton therapy allows doctors to deliver high doses of radiation directly to a tumor target while minimizing the impact of radiation on surrounding tissue.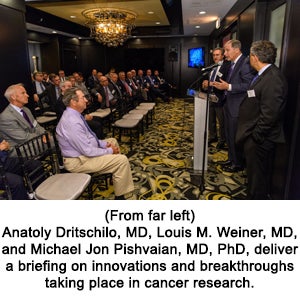 The largest benefit of proton therapy is that it can minimize the side effects of cancer treatment by giving less radiation to critical structures in the body, ultimately giving patients better quality of life, said Anatoly Dritschilo, MD, chair of radiation oncology at MedStar Georgetown University Hospital.
"When I was a resident, the idea of doing proton therapy was just coming into the clinic — now about 40 years later the technology has advanced and we can now deliver protons very precisely to various locations," said Dritschilo, who has treated over 5,000 cancer patients throughout his career.
Also joining Weiner for the cancer briefing was Michael Jon Pishvaian, MD, PhD (M'01, PhD'01), medical director of the clinical research management office and the director of the phase I clinical program at Georgetown Lombardi. In his remarks, Pishvaian focused on the most deadly type of gastrointestinal cancer: pancreatic. Because of the research being done at Georgetown Lombardi, which stresses personalized medicine, "we are seeing some of these pancreatic cancer patients — who used to live four months or less — are now living two to three years, and in some exceptional cases, up to five years," said Pishvaian, who also serves as co-director of the Ruesch Center Pancreatic Cancer Program and as an assistant professor in the division of hematology and oncology in the department of medicine. "It really is a different era."
Supporting 'a Critically Important Institution'
Several of the volunteers who help organize the Men's Event have been personally impacted by cancer, either having been diagnosed themselves or having lost a loved one to cancer. Clifford J. Alexander (L'69) is an attorney whose firm, K&L Gates, was a sponsor of the event. As a co-chair of the Men's Event, Alexander was inspired to support cancer research at Georgetown Lombardi because he lost both his parents to cancer.
Paul Schweitzer, a commercial real estate executive, became a donor and fundraiser for Georgetown Lombardi in 1993 when he joined Friends of Lombardi, a cancer awareness and fundraising group for young professionals. For the last 19 years, Schweitzer has served as a co-chair of the Men's Event. He has also chaired the annual Georgetown Lombardi gala.
Schweitzer's life has been touched by cancer repeatedly. His mother is a 32-year breast cancer survivor, his father a colon and lung cancer survivor, and his 32-year-old daughter-in-law had recently been diagnosed with breast cancer. As the only National Cancer Institute-designated comprehensive cancer center in Washington, D.C., "Georgetown Lombardi is a critically important institution for this Washington region and is very much part of the fabric of the community in terms of promoting cancer awareness and cancer prevention screening," he said.
Like Schweitzer, Skip Davis is a commercial real executive and licensed Realtor who began his support of Georgetown Lombardi through Friends of Lombardi. Davis is also a former member of Georgetown University's board of regents, co-chair of the Men's Event and the son of a breast cancer survivor.
One of his earlier memories of death, Davis recalled, was of a girl who lived across the street from him when he was 15 years old. The girl developed bone cancer in her leg and after having her leg amputated, she passed away during her senior year of high school. "There is nothing more unfair in life than to have a child suffer and basically face a death sentence just because some gene turns on," Davis said.
'There is No Cause Closer to My Heart Than Cancer'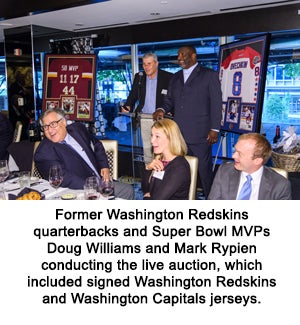 Several former players for the Washington Redskins, including two Super Bowl MVPs, attended the Men's Event to help with the live auction and raise money for cancer research. Mark Rypien, quarterback and MVP of Super Bowl XXVI, was joined by Doug Williams, quarterback and MVP of Super Bowl XXII, linebacker Ken Harvey and Rick "Doc" Walker, a tight end.
About 18 years ago, Rypien lost his 3-year-old son to brain cancer. Since then, he has founded the Rypien Foundation to improve the quality of care and provide hope for families battling childhood cancer.
"There is no cause closer to my heart than cancer," Rypien said.
Seren Snow
GUMC Communications