Melanoma Survivors Luncheon Celebrates Cancer Research Achievement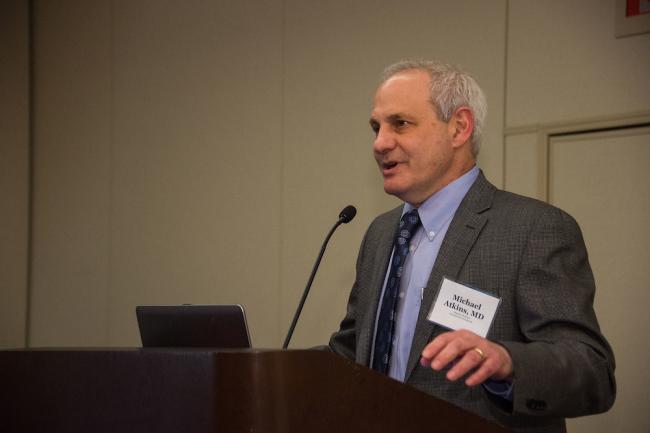 Posted in Lombardi Stories | Tagged melanoma, survivorship
(May 10, 2016) — If advances in cancer treatment dramatically change the outcome for individual patients, imagine its impact on a physician who has only recently been able to deliver good news.
"I know I speak for my colleagues in saying that I have been waiting my whole career for a day like today." That's what Michael B. Atkins, MD, told patients, their families and caregivers at the opening of a Melanoma Survivorship Luncheon.
The Path to New Treatments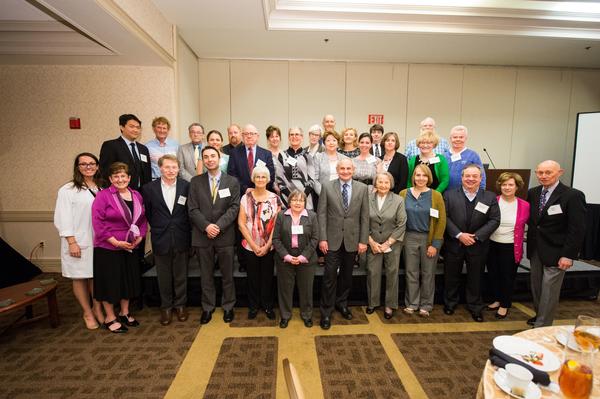 The May 6th event, hosted by Dr. Atkins and the Melanoma team at Georgetown Lombardi Comprehensive Cancer Center and MedStar Georgetown University Hospital, was to commemorate, as Atkins stated, "how far we have come in the treatment of melanoma over the past five years, where we are heading and the obstacles that remain."
And just five years ago, this luncheon would not have been possible.
"Since 2011, seven new drugs have been approved. And with these drugs there no longer is a median survival for patients with advanced disease. Over 60-70 percent are expected to survive long term," Atkins said.
He explained that the change in treatment is related to progressive exploration into the biology of melanoma. The discovery that "about half of melanoma cases have BRAF mutations and can be controlled by BRAF inhibitors" is a major advancement that Atkins touched upon as revolutionary research.
The Role of Immunotherapy
In addition, tumor and cancer immunotherapy research has also lead to strong findings in the field of melanoma research.
"We discovered that all tumors, particularly melanomas, have other mutations that create abnormal proteins on their surfaces that can be recognized and targeted by immune cells."
Atkins offered stirring words to the melanoma "survivors and thrivers," who are direct recipients of the new treatments available today.
"Each of you have benefited from these advances in one way or another. Each of you has an exceptional story, but as you look around the room you will see that you are no longer exceptions," Atkins continued.
Survivors Hear Others' Stories
During the luncheon, the "survivors and thrivers" like Stan Sher and Leta Brown were able to get acquainted with each other and hear each other's stories.
Atkins also expressed his gratitude that these new treatments have begun "ending the pain and suffering from melanoma," while looking to future outreach.
Christie Maillet
Georgetown Lombardi Communications