Lombardi Gala Celebrates Hope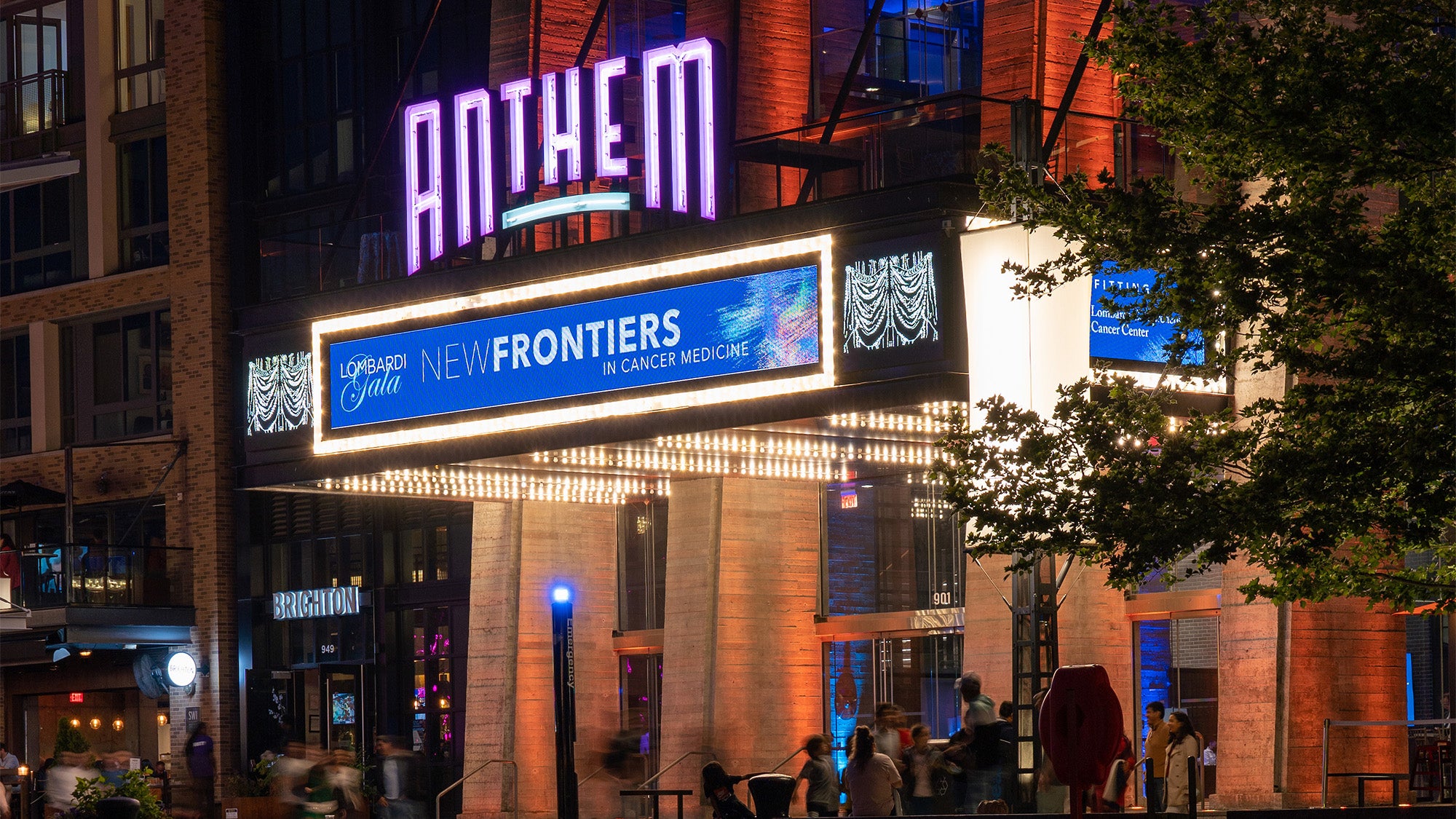 Posted in Lombardi Stories | Tagged cancer research, Lombardi Gala, philanthropy
(May 4, 2023) — Friends and supporters gathered for the 35th annual Lombardi Gala to celebrate life and hope in the face of cancer and rally support for funding cancer research at Georgetown University's Lombardi Comprehensive Cancer Center. The April 29 gala, held at The Anthem at the Wharf, raised more than $1.2 million.
"As the director of Georgetown Lombardi, I see the impact of philanthropy every day," said Louis M. Weiner, MD, director of the cancer center. "It allows us to pursue the early leads and promising science that will one day lead to a cure for cancer. Bold ambitions are a daily part of our conversation — big, forward-thinking ideas that stretch the imagination and fuel our ability to help cancer patients everywhere. Your support allows us to push those boundaries, explore the unknown and bring hope to those who thought that all was lost."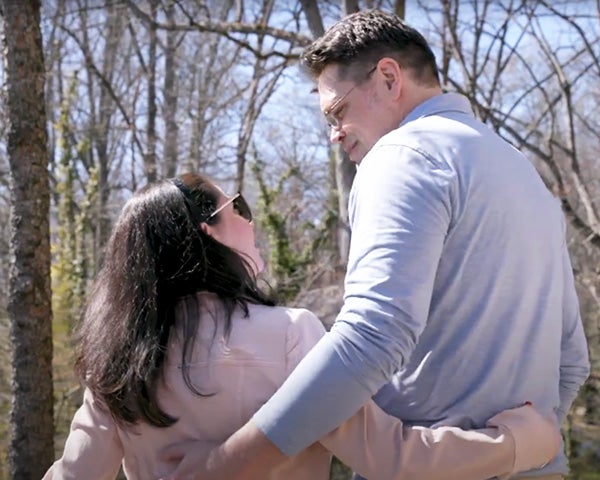 Two people who found hope because of Georgetown Lombardi are Shaun and Emily Micale Moe. In a moving video, Moe talked about her bouts with stage 4 melanoma and her feelings after learning about a recurrence in 2013, seven years after her initial diagnosis.
"I remember thinking, 'I'm never going to get free of this… it's never going to let me go," recalled Moe. "Ultimately, the targeted therapies have kept me cancer free for six years."
"Everybody's journey with melanoma is a little bit different," said Michael B. Atkins, MD, deputy director for translation and application at Georgetown Lombardi. "Our goal is to think about how to get them back to their prior life.
"Philanthropy and donations allow us to answer critical questions that lead to the next advances," he added.
---
Scenes from the 35th Lombardi Gala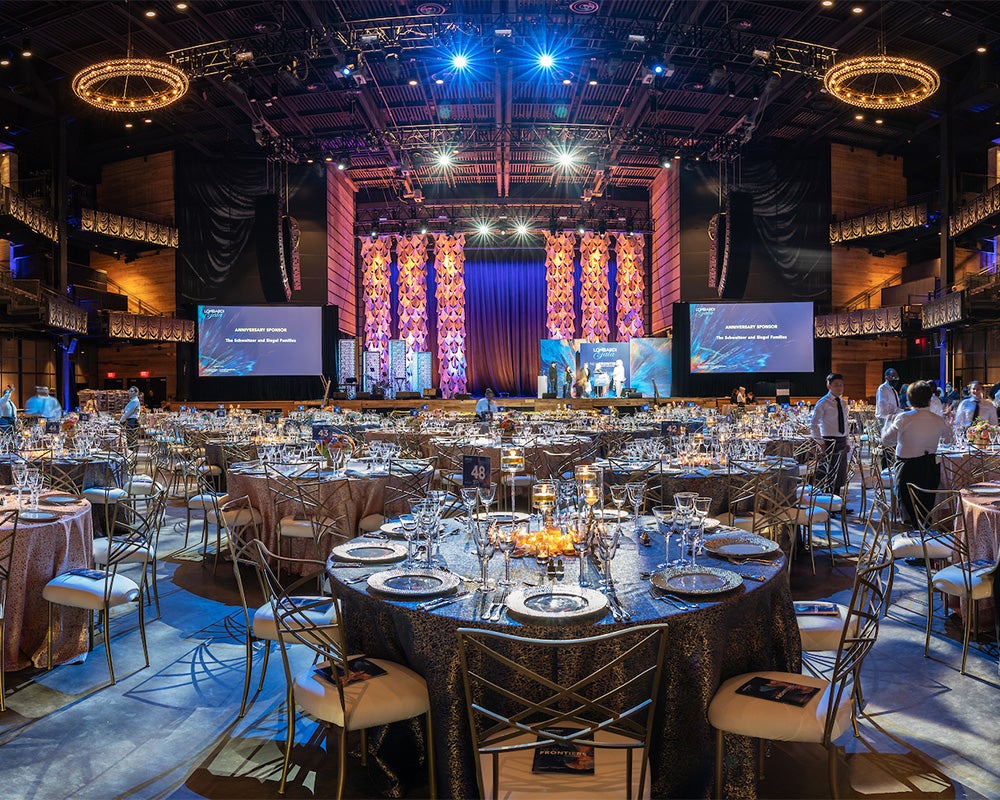 The Anthem, located on the waterfront in D.C., was the venue for this year's Lombardi Gala.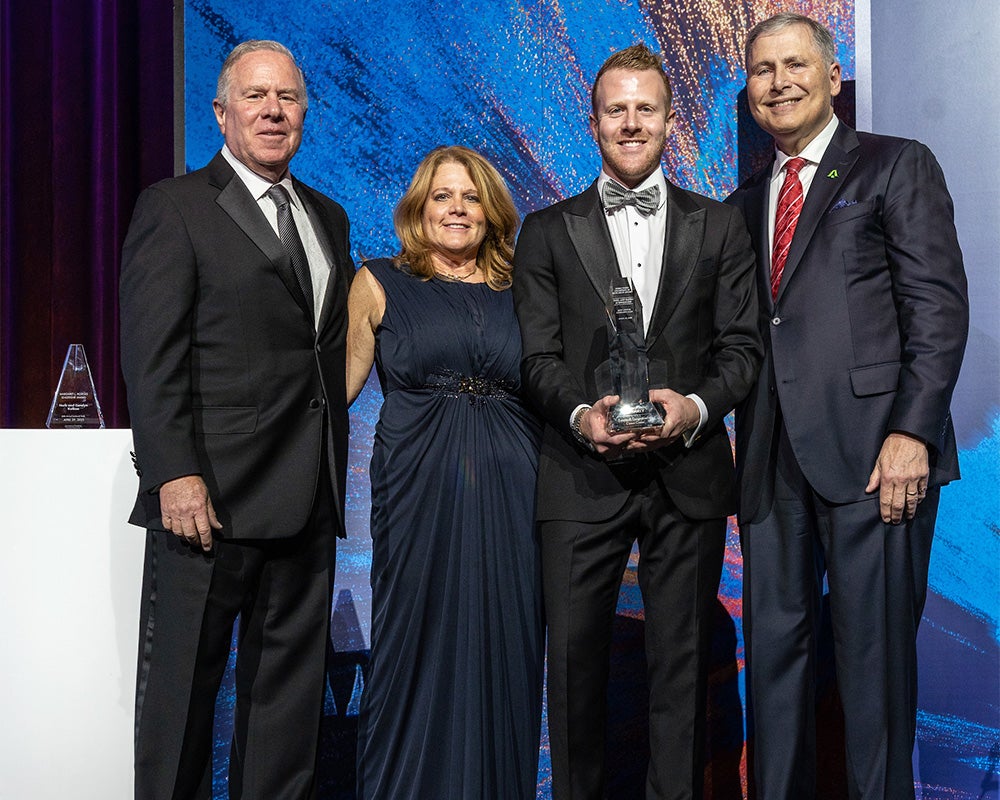 Georgetown Lombardi Director Louis Weiner, MD, (pictured far right) presented the Director's Champion in Research Award to the Schweitzer and Siegel families. Paul and Randi Schweitzer and their sons, Glenn, Brett and Kevin, and Edwin and Linda Siegel have been dedicated volunteers and donors to Georgetown Lombardi for over 30 years. They have helped to raise millions of dollars, with their legacy of support spanning three generations. Their leadership and advocacy have truly impacted and inspired the work that the cancer center does. "This award was created to celebrate those who go above and beyond in their support of our fight to end cancer," said Weiner. "These are the partnerships that animate and inspire our work."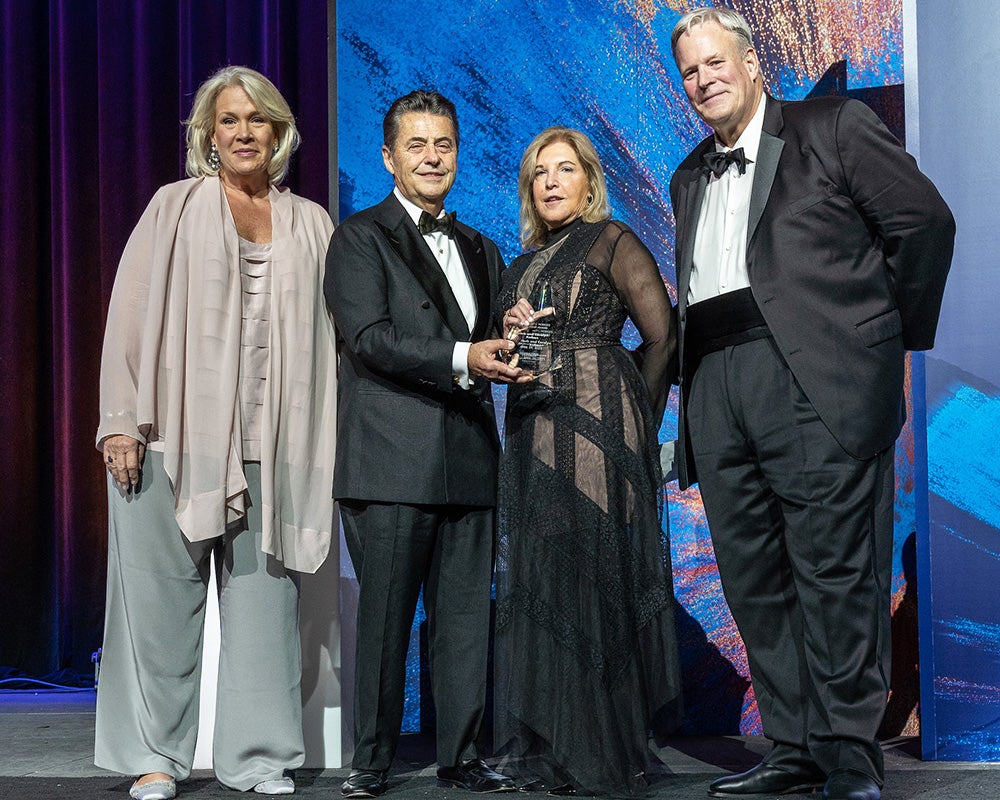 Laurie Lapeyre (pictured far left) and Walter Hodges (pictured far right) presented the Margaret Hodges Award to Herb and Carolyn Kolben. Since 2000, the Kolbens have generously supported the Lombardi Gala, Lombardi Women and the Men's Event, all directly benefiting cancer research at Georgetown Lombardi. Over two decades, the Kolbens have given generously of their time, talent and treasure to help advance Georgetown Lombardi's mission of finding a cure for cancer. Carolyn currently serves as chair of the Lombardi Gala Auction Committee.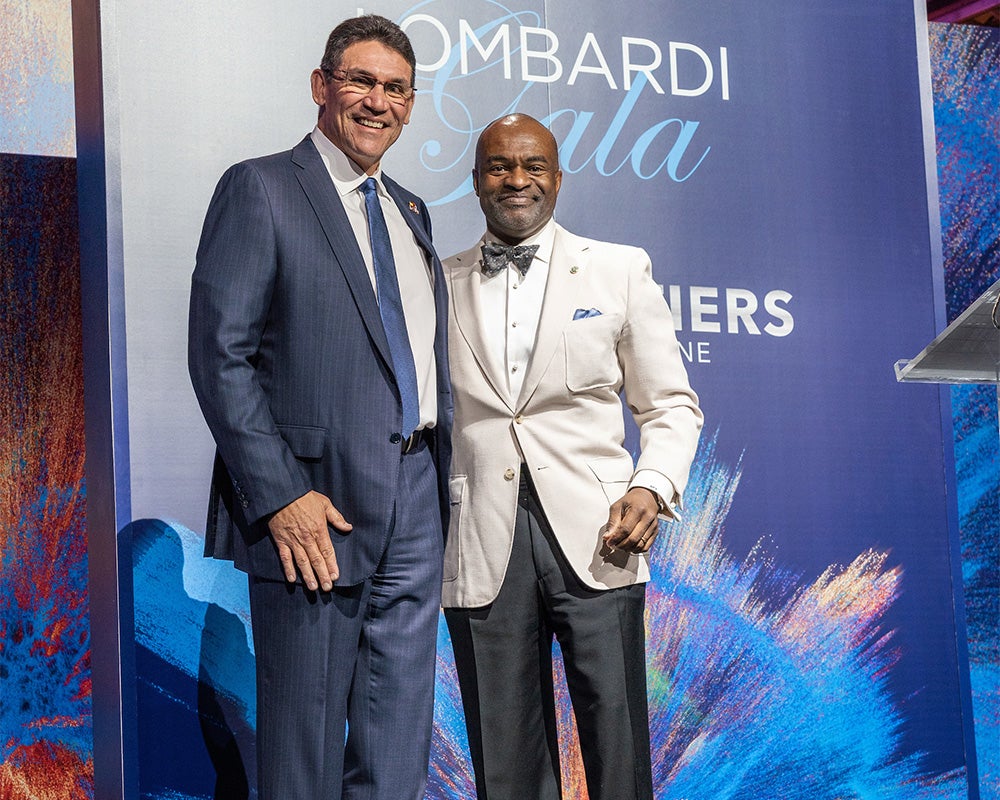 DeMaurice Smith, NFL Players Association executive director (pictured right), presented the NFLPA Georgetown Lombardi Award to Washington Commanders Head Coach Ron Rivera, whose public bout with cancer has served to inspire many. In his continued advocacy, he is doing his part to raise awareness and encourage others as they fight this disease.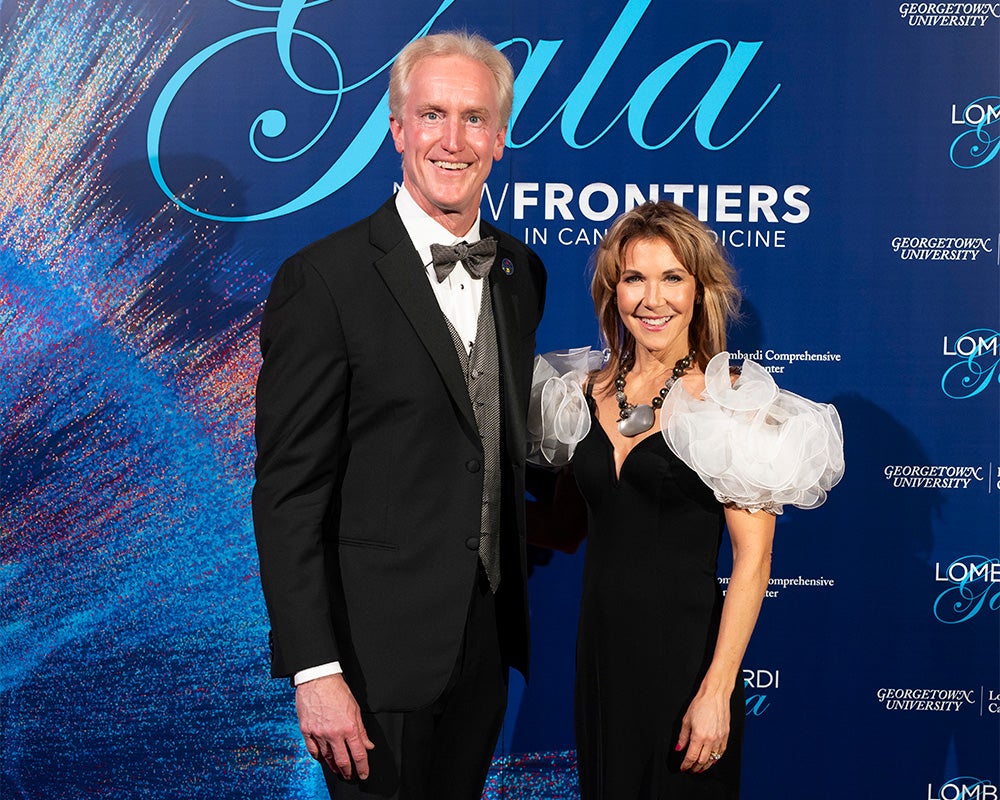 Kevin Reilly, vice chair of Hyundai Hope on Wheels, and his wife, Mary, both devoted Georgetown Lombardi supporters, served as the gala's co-chairs alongside honorary co-chair DeMaurice Smith, executive director of the NFL Players Association.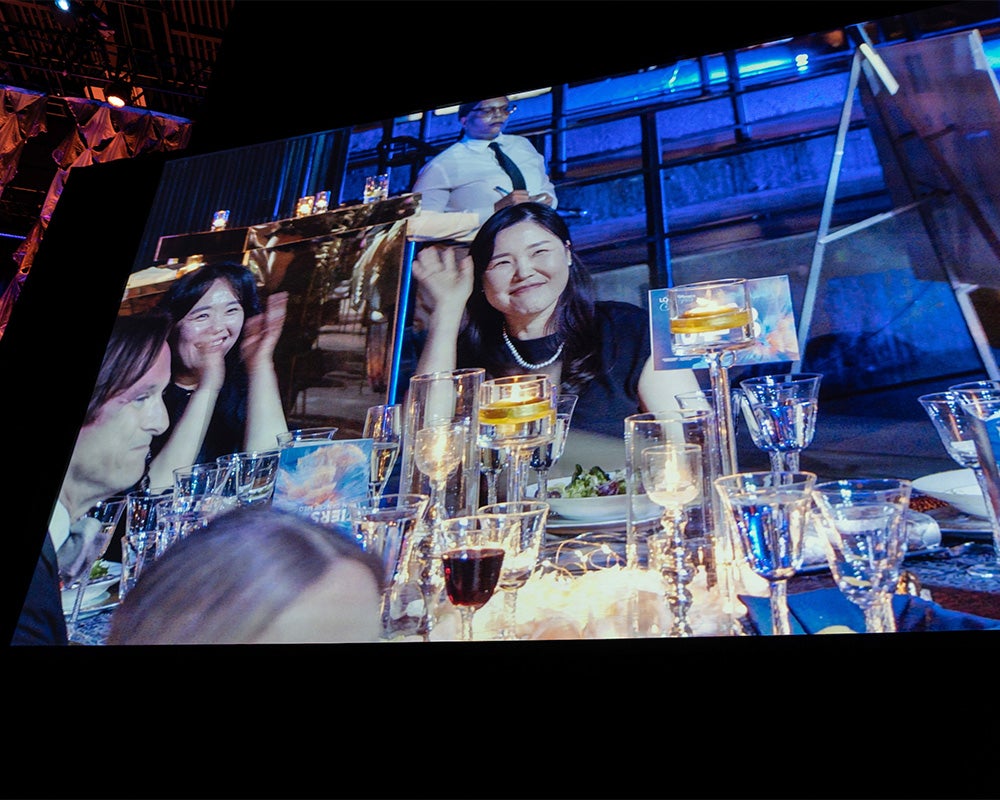 Cecil Han, PhD, this year's recipient of the John F. Potter, MD, Award, was recognized during the evening's proceedings. Established in 2017 in honor of Georgetown Lombardi's founder, the award recognizes the achievements of a rising star researcher.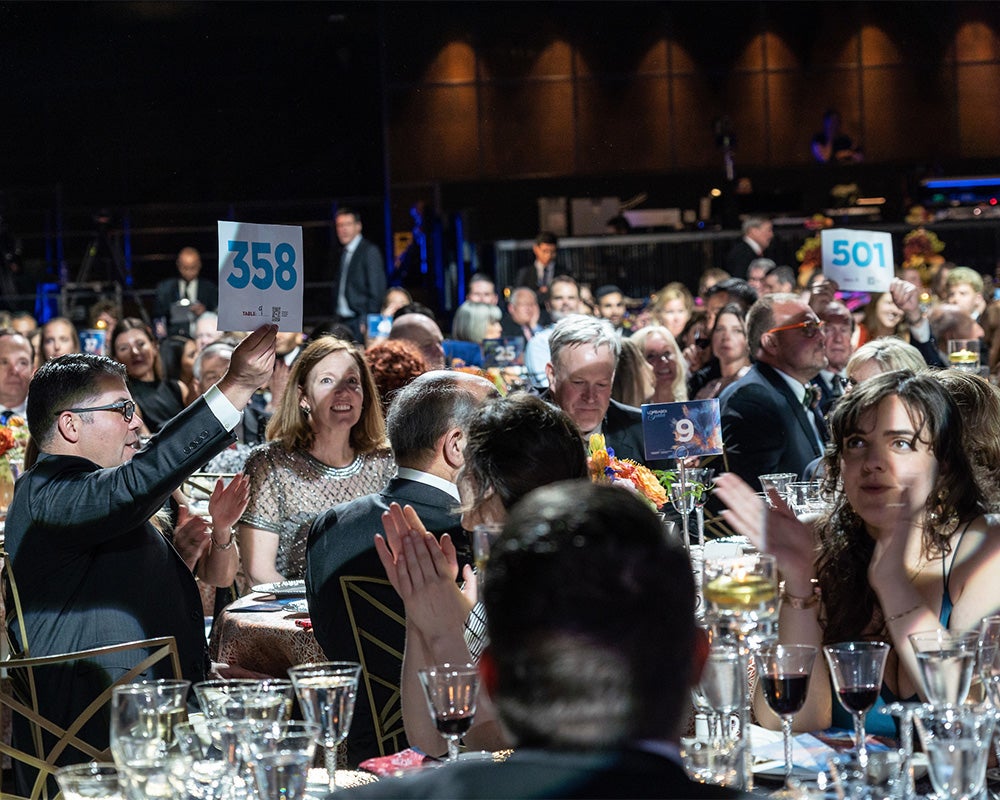 During a live appeal held during the evening's proceedings, attendees donated to support cancer research at Georgetown Lombardi. Earlier in the evening, a silent auction also raised funds for cancer research. The 2023 Lombardi Gala auction was led by Auction Committee Chair Carolyn Kolben.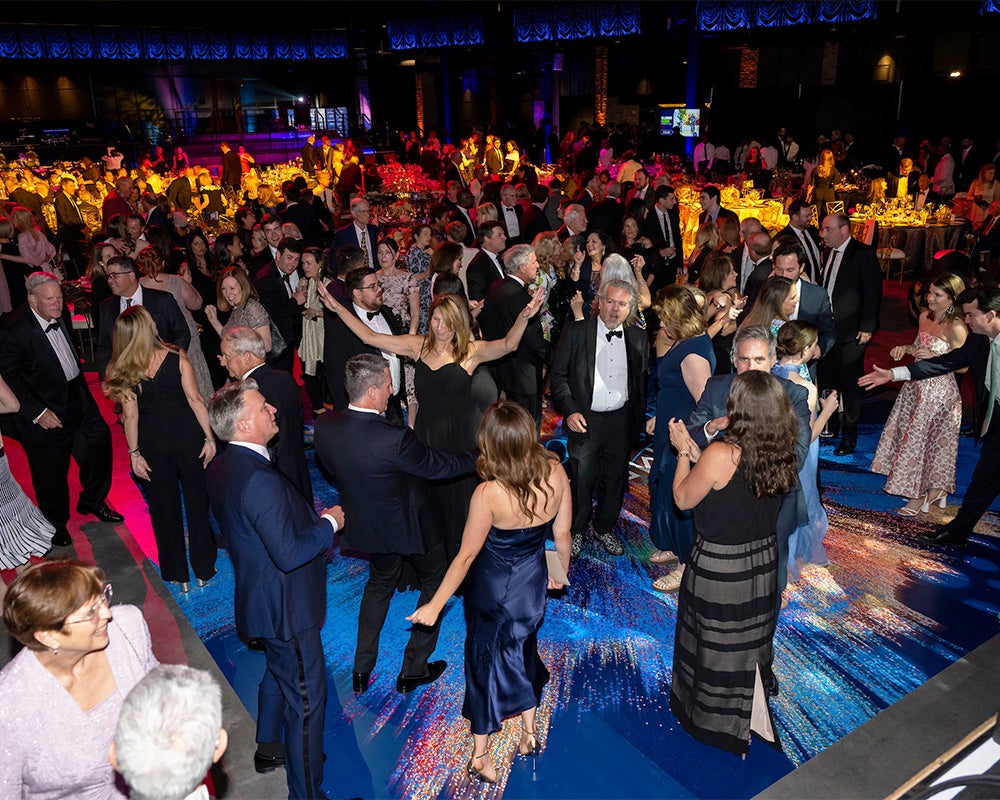 Music and dancing rounded out the evening.