Annual Lombardi Gala Honors ESPN Anchor, Cancer Fighters
Posted in Lombardi Stories | Tagged Lombardi Gala, philanthropy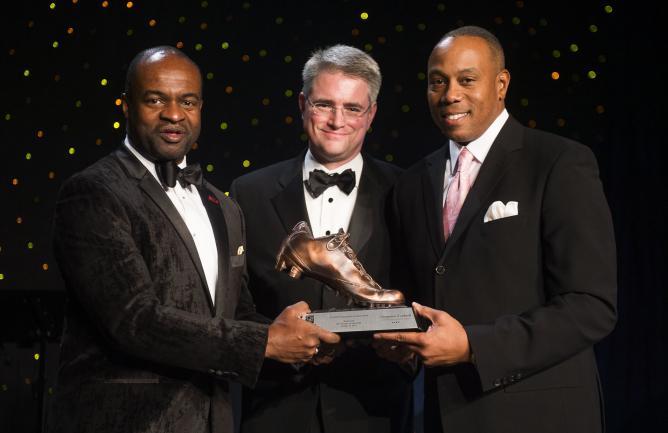 (October 22, 2014) — The 28th Annual Lombardi Gala took place October 18, drawing more than 800 people to the Washington Hilton for an evening of raising funds and awareness for cancer treatment and research.
The black-tie dinner-dance brought together leaders in corporate, diplomatic, political, sports and social communities together to demonstrate their unwavering support for the Georgetown Lombardi Comprehensive Cancer Center and commitment to finding a cure for cancer.
The event included a silent auction of over 300 items, a raffle for a 2015 Lexus vehicle, and award presentations to individuals who have made exceptional contributions towards eradicating cancer.
The Lombardi Gala has raised over $22 million to date and 100 percent of the proceeds directly benefit Georgetown Lombardi.
Honoring the Fighters
ESPN anchor Stuart Scott (new window) was named this year's NFL Players Association Georgetown Lombardi Award recipient.
The award, jointly established by the NFL Players Association (NFLPA) (new window) and Georgetown Lombardi, honors a sports industry leader whose life has been touched by cancer and who demonstrates a commitment to supporting cancer research, prevention and treatment through awareness and philanthropy.
Scott, who has battled cancer since 2007, was unable to attend due to his ongoing treatment. His ESPN colleague Jay Harris, also an anchor, accepted the award on Scott's behalf.
"Cancer. I hate that word. It affects us all," said Harris, following an emotional video showing highlights from Scott's career and demonstrating his perseverance throughout his seven-year battle with the disease.
NFLPA Executive Director and honorary Gala Chair DeMaurice Smith (new window) presented the award.
"We honor Stuart tonight, not because he has cancer, but because of his tenacity and his fight," said Smith, who was joined on stage by legendary NFL coach Vince Lombardi's grandson, Vincent Lombardi II.
Earlier in the evening, Gala committee members presented the Margaret L. Hodges Leadership Award to Samuel Foster, Jr. (new window) of Foster Soft, Inc (new window). Foster, who initially attended the Gala out of a desire to join a local charity, became personally involved when his wife Karen succumbed to breast cancer in 2003.
"Had this tragedy not occurred more than a decade ago, my wife and I would have still continued to support the Georgetown Lombardi Comprehensive Cancer Center," said Foster. "The Center leaves no stone unturned when it comes to patient care while also conducting research at the cutting-edge of the fight against cancer."
A Community Effort
Georgetown University President John J. DeGioia, PhD (new window) thanked the audience for their part in helping Georgetown Lombardi achieve its mission.
Howard J. Federoff, MD, PhD (new window), executive vice president for health sciences at Georgetown University Medical Center and executive dean of the School of Medicine, also expressed his gratitude before introducing honorary congressional chair U.S. Rep. Mike Rogers (R-Mich.)
Besides his roles as chair of the House Intelligence Committee and a leader on national security issues, Rogers is a bladder cancer survivor and determined advocate for cancer care on Capitol Hill.
"I want to say to Georgetown Lombardi, 'Thank you very much. You punch above your weight and the research that you do is immeasurably important,'" said Rogers.
Winning the War
Georgetown Lombardi Director Louis M. Weiner, MD (new window) gave an invigorating call to action while reminding the audience of the continued support that is necessary to win the war against cancer.
"Research cures cancer. But we can't make that happen without support—and that is where you—our partners—come in," said Weiner.
"People like Stuart Scott are reminders of the terrible human cost of cancer. You have heard of the war on cancer. But we are winning this war," he added.
Weiner spoke of the importance of Georgetown Lombardi's status as the District's only National Cancer Institute-designated comprehensive cancer center. Georgetown Lombardi received its renewal of that status, along with a five-year, $11.25-million NCI grant, last month.
"Comprehensive cancer centers are where research meets patient care—where tragedies are transformed into triumphs," said Weiner.
Partnering for the Cause
Gala co-chairs this year were Brian Katz, Jill Kirkpatrick and Paul Schweitzer. Individual sponsors for the Gala included Blake and Allison Cogbill, and Laurie and Pierre Lapeyre.
Corporate sponsors of the Gala included the exclusive automotive sponsor Washington Area Lexus dealers (new window), who provided the 2015 IS 350 F-Sport raffle prize item.
BMO Capital Markets (new window), beverage sponsor Diageo (new window), premier philanthropists MedStar Health (new window), and the NFLPA also served as corporate sponsors for this year's Gala.
By Cherisse Cobrand
Georgetown Lombardi Communications