From Husband and Wife to Caregiver and Patient, John and Liza Marshall Reflect on Their Personal Cancer Journey in New Memoir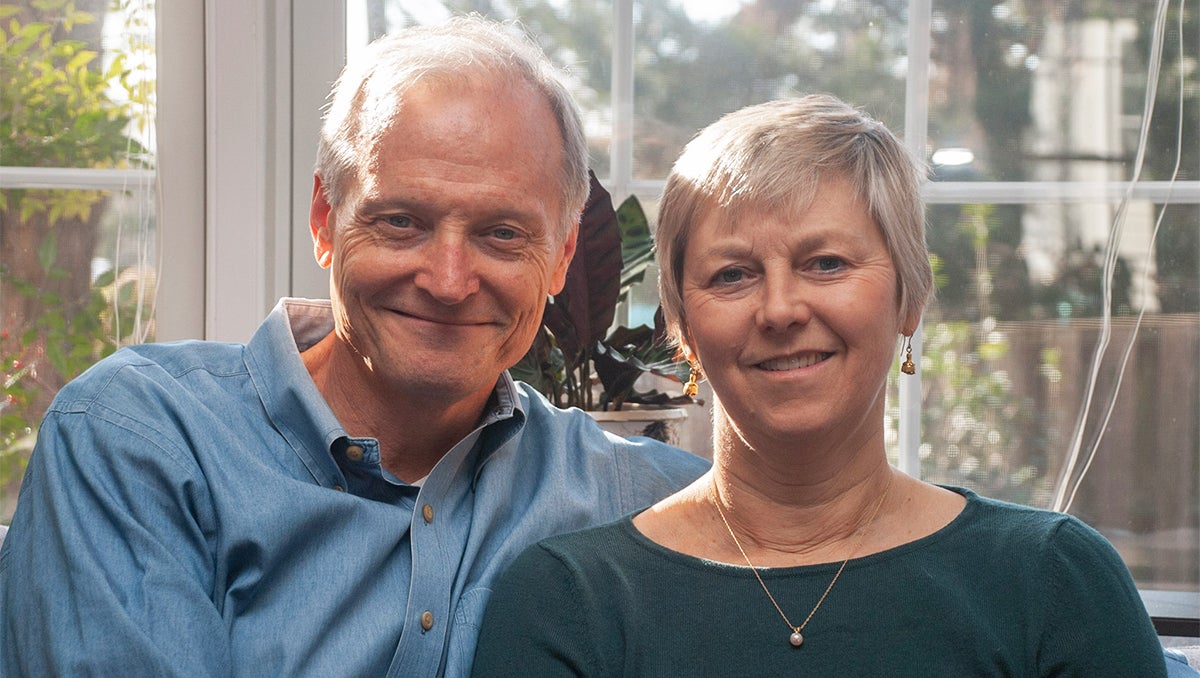 Posted in Lombardi Stories | Tagged breast cancer, cancer, publications
(April 15, 2021) — As the current chief of the Division of Hematology/Oncology at Georgetown Lombardi and the director of The Ruesch Center for the Cure of Gastrointestinal Cancers, John Marshall, MD, said that the hardest yet most important job of his life was taking on the role of caregiver when his wife Liza was diagnosed with stage III triple-negative breast cancer in 2006.
At the time, Liza happily had her hands full as an attentive mother, daughter, sister, friend, volunteer and wife. Her diagnosis made her feel determined to weave her new role as patient into the fabric of her life without letting it overtake her. She has been cancer-free for over 14 years.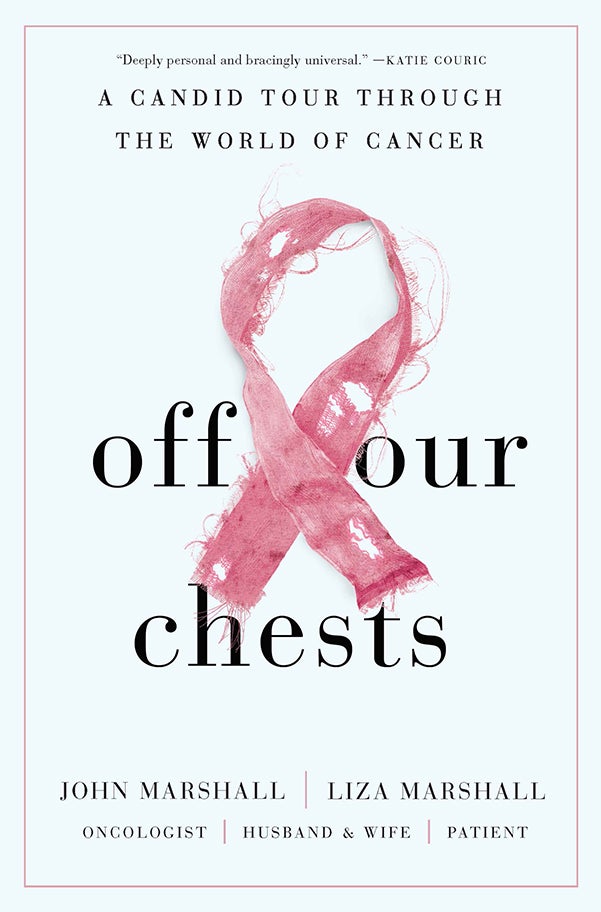 Now, the physician and survivor duo has taken on yet another new role. Together they authored the memoir "Off Our Chests: A Candid Tour Through the World of Cancer," to be published on May 4. The book details their personal cancer journey to the "other side" and back, fortified by a renewed appreciation for each other's experiences.
A Writing Retreat
The Marshalls wrote most of the book in the fall of 2019 when they traveled to the United Kingdom for John's sabbatical. They wrote chapters independently, each recounting some of the same events as they remembered them. As she reconstructed everything from details of medical procedures to the conversations she had with providers and family, Liza said that writing was an edifying experience.
For John, the writing process was more therapeutic. "I could count on her to tell the story correctly, which gave me the luxury of just writing what I was feeling, like a diary," he said. "In many ways this was the first time I was revealing certain things to her, and the first time I learned about her perspective." In the book, he says that writing was what he needed all along: "care for the caregiver."
Their voices, intertwined throughout the book, weave a tapestry of a highly personal, poignant journey. Threaded through it is wisdom for every reader, not just for patients and caregivers, but also those in the medical community, from early career to highly experienced clinicians.
"My breast cancer experience was every woman's experience in many ways," Liza said during a recent medical grand rounds at Georgetown. As for John, "his background as an oncologist brings a very different aspect to this story, and allowed us to look behind the curtain of what cancer care in America really looks like."
Liza received all of her cancer care at MedStar Georgetown University Hospital, and John is quick to acknowledge that the remarkably positive experiences they had here may have been enhanced by his role and connections, and the natural advantages they conferred. Their reflections, however, will resonate with anyone whose life has been touched by cancer.
'The Other Side'
John said that Liza was his "secret shopper" at Georgetown, and her experiences gave him a window into the patient's world that he had never seen before. "I learned a lot about what it felt like 'over there,'" he said.
For example, at different points during Liza's treatment, she came to a fork in the road. She had plenty of resources and people at her disposal to help her make decisions such as which chemotherapy regimen to choose. But ultimately what she wanted was for her doctors to tell her what to do. "When there were equal alternatives, I had no idea how to assess that," she said. "I still don't understand if doctors feel that it's not appropriate to be more direct." She noted that John was not surprised that she did not get more input from her doctors. However, he did not tell her what decisions she should make either.
"People respond differently. But if they ask me, I tell them what I would do if it's me," John said. "I won't open a clinical trial that I wouldn't enroll in. That's how I make decisions. I can't sell it unless I believe it's the right thing to be doing."
"I don't know if there's so much pressure to be objective or to engage in shared decision-making, but there are times when we need to say, 'This is what we need to do. Now.'" he added. "A lot of us aren't willing to be personally responsible for what happens. Our patients want us to do that, and liability makes us afraid of it."
Maintaining Hope
The outlook for women with triple-negative breast cancer — Liza's cancer — is much better than it was when Liza was diagnosed. But in 2006, this type of aggressive breast cancer and the best ways to treat it were not well understood. Liza reflects in the book that during her treatment, "We never verbalized the fact that there was a real possibility of my death, but I imagine [John] thought about it a lot."
Indeed, he did. Reflecting on their experiences, John said that he and Liza and their children excelled at following at least one piece of advice that he often shares with patients: "Don't forget to live." By going about their lives, celebrating milestones and planning for the future, they had hope and faith that Liza would pull through.
In John's world — where, tragically, many patients die at young ages from advanced gastrointestinal cancers — he sees firsthand the importance of hope. "It's our obligation to paint the reality and the possible paths forward, but when you remove hope… the outcomes are worse," he said. "At Georgetown, I think we've overcome the natural tension that can exist between the oncologist as the patient's advocate and other members of the medical team who tend to be focused on having end-of-life discussions."
The Gift of Grace
Perhaps the most difficult thing patients, their families, caregivers and doctors must face is the reality that life does end. The book shows readers how the weight of John's fears about Liza's prognosis bore down on him not only as her husband, but also as a doctor.
"The closer you get, the more you know about the patient, the more responsive you are to that patient, the more it hurts you," he said. "So as the doctor, finding this balance between empathy and personal mental health is challenging. It's a fine line. We don't want to acknowledge that our jobs are hard, but… we need to lean into this, with grace."
Liza reaffirmed that sentiment. "We want doctors to tell us what to do and to know everything," she said. "They can't. And they have lives too. Everyone comes at this with their own frailties. Especially with what's going on in the world today, I think it's important to give as much grace as we can to each other. It makes a smoother road for everyone."
Beth N. Peshkin
GUMC Communications