Inaugural BellRinger Ride Raises More Than $1 Million for Cancer Research at Georgetown Lombardi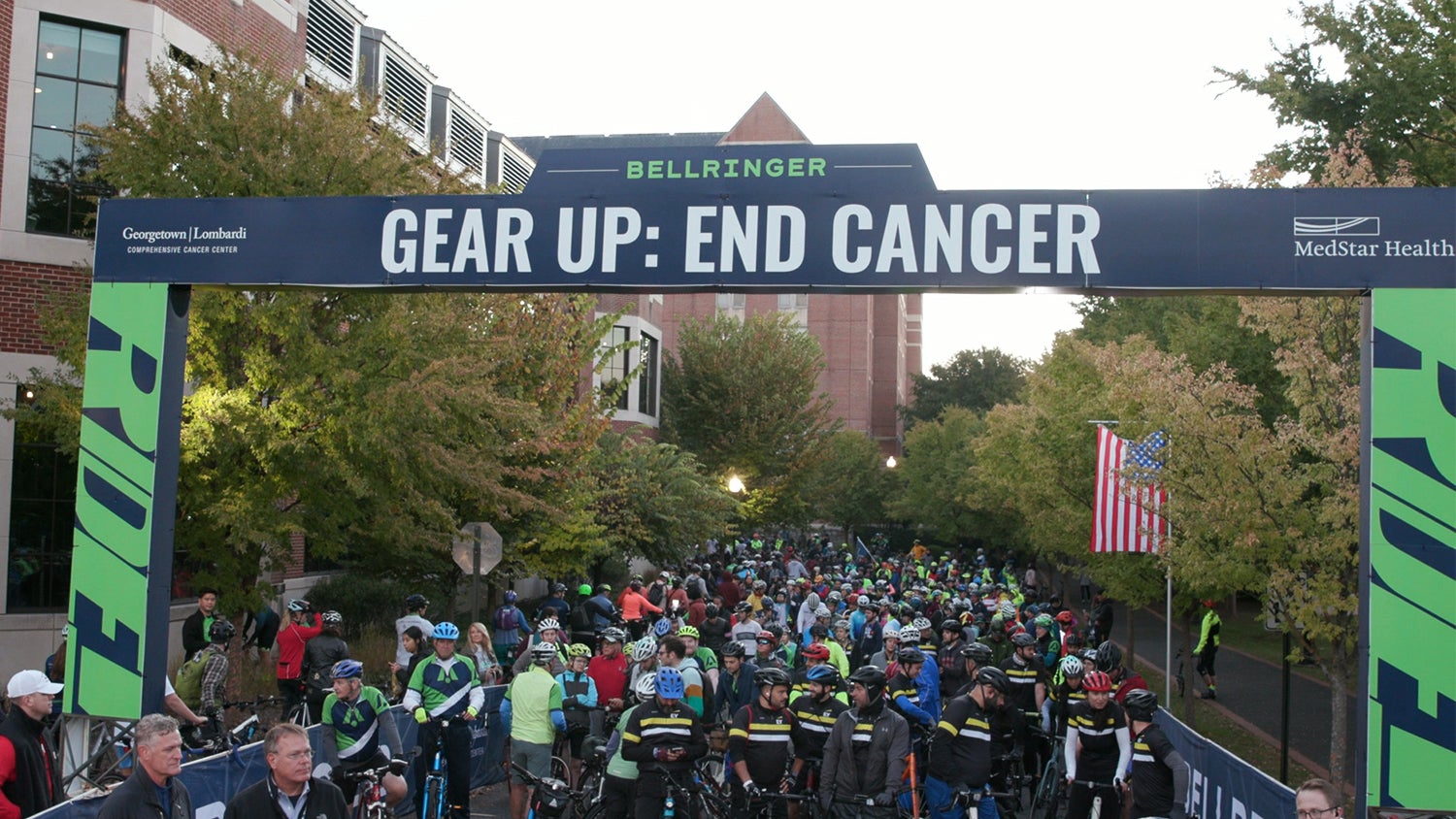 Posted in Lombardi Stories | Tagged BellRinger, cancer research, philanthropy
(October 23, 2022) — Before sunrise on a crisp fall morning, hundreds of cyclists gathered for the inaugural BellRinger ride, a fundraiser for Georgetown Lombardi Comprehensive Cancer Center that took participants from Higgins Plaza at Georgetown through Montgomery and Frederick counties in Maryland on 25-, 50- or 100-mile routes.
The night before at a pre-ride dinner, ride organizers celebrated the cyclists' success in raising more than $1 million for critically needed cancer research from the 851 registered cyclists.
"We're here this weekend because of all of you," said Georgetown President John J. DeGioia in a video message to BellRinger riders. "Thank you for taking on this challenge and for joining us in this fight against cancer."
"You have committed to train, you have committed to fundraise, and we've asked you to do a lot," said Chris Timko, BellRinger executive director, at the Oct. 21 dinner in the shadow of Georgetown's McDonough Gymnasium. "Some of you will be riding more miles than you've ever ridden before. Others, all of us, put ourselves on the line to fundraise. We're going to make a huge, huge impact."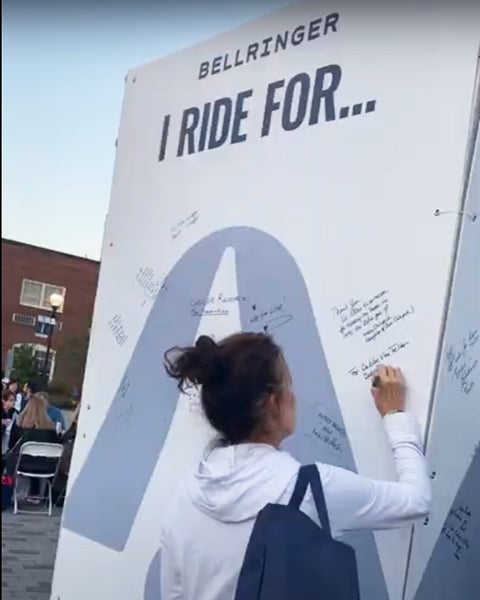 "I can tell you, for a first ride, to have the kind of turnout we've had is a testimony to the extraordinary people who are here today, the folks who helped raise the money, the people who organized it, and I just want to thank you all so much for what you've done," said Louis M. Weiner, MD, director of Georgetown Lombardi.
BellRinger participants saw the potential impact of their efforts through the story of cancer survivor and fellow rider Warren Fogler, recounted in a video presented at the pre-ride dinner. Thanks to immunotherapy treatment available at Georgetown Lombardi, Fogler recovered from metastatic melanoma.
The BellRinger name comes from an experience shared by cancer survivors across the country. "When a cancer chemotherapy patient finishes his or her course of treatment and is free to go, there's a big cowbell at almost every infusion unit in the country, and when they walk out that door, they ring the bell to signify their personal victory over cancer," Weiner said.
"That's what we want to do," he added. "We want to ring the bell to beat cancer. But what I really want to do is work towards a time when we don't have to ring any more bells, because we don't have to worry about cancer anymore. And that's why we're here tonight."
'An Event for People Who Hate Cancer'
The first BellRinger weekend was the product of years of planning, and in the course of pre-ride preparations, Lisa Boyle, MD, vice president for medical affairs at MedStar Georgetown University Hospital, recalled hearing a colleague's remark that resonated with her.
"The comment was made that this is not an event for cyclists, it's an event for people who hate cancer," she said. "So when I set down to write down my thoughts, it was easy. It is true that I am a cyclist. I like to think of myself as a recreational cyclist. But the real 'why' for me is that I hate cancer." MedStar Health was a major supporter of the ride.
"It is my inspirational hope and dream that with the help of people like you supporting the transformational work that's being done in institutions like Georgetown Lombardi Comprehensive Cancer Center, that future generations of patients can be afforded the best possible outcomes for their fight against this disease," Boyle added. "So on behalf of all of my colleagues at MedStar Health, thank you, be safe and let's enjoy the ride."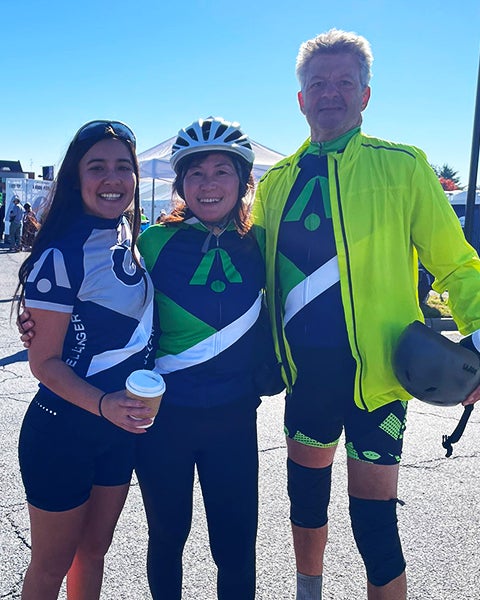 Helping Researchers Follow Their Curiosity
When Ruth He, MD, PhD, was a child in China, cycling was the most common way to commute. Participating in BellRinger helped her rediscover her enthusiasm for cycling, she said at the pre-ride dinner.
"I love being part of the BellRinger community," said He, a gastrointestinal oncologist. "Through BellRinger, I have been able to get back in the saddle and also get to know a whole new community of people."
As a researcher, He has been inspired by the riders' fundraising efforts. "I'm a biochemist by training and I was always fascinated about how things work," she said. "Curiosity still fuels my research now. And what you do will allow our researchers to remain curious, to find out new ways of making treatments work better for our patients.
"All you have done has already had a great impact on what we, the researchers, are doing at Georgetown Lombardi," He added.
On a Bicycle Built for Two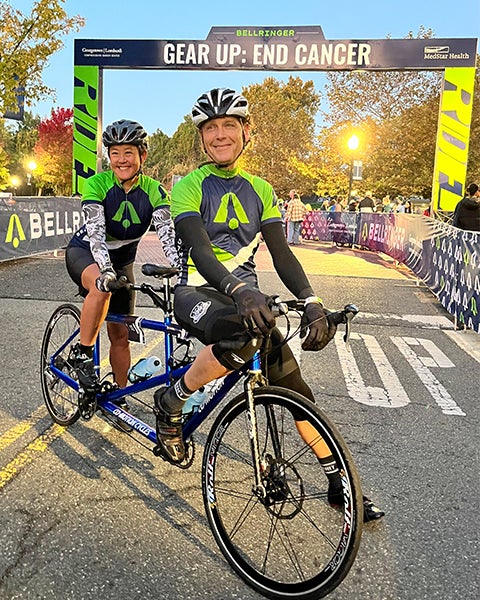 Since Grace Hong, director of philanthropy for MedStar Georgetown University Hospital, was introduced to cycling by her husband, they have collected 13 bikes: road, gravel, mountain and even an electric cargo bike. In preparation for BellRinger, they recently went for a 30-mile training ride on their tandem road bike. "We have never had so many drivers, walkers and other cyclists smiling, waving, giving us a thumbs up and shouting encouragement," she said.
For BellRinger, Hong and her husband rode 50 miles to Urbana, Maryland. "We got a lot of props for riding our tandem," she said. "Such a good feeling to ride for such an important cause, for my friends who have battled cancer and for my colleagues who work tirelessly to care for and treat patients with cancer."
"Rest stops were well stocked and full of enthusiastic volunteers, all of the volunteers were fantastic," Hong added. "It was a great course and I would definitely do it again."
Volunteering for 'A Very Special Cause'
Georgetown faculty, staff and students as well as MedStar Georgetown University Hospital associates joined in to volunteer for BellRinger. Samika Hariharan (H'24), an undergraduate research assistant in Weiner's lab, organized student volunteers from the Georgetown Emergency Response Medical Service (GERMS) to provide emergency medical services.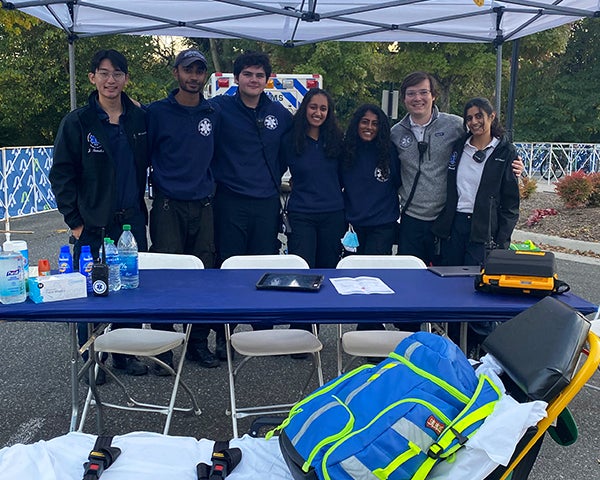 "I am helping out because I lost my grandfather to colon cancer," Hariharan said. "I want to support cancer research as much as possible."
Sarah Thornton, RN, a clinical nurse and project manager in the Center for Patient Safety at MedStar Georgetown volunteered to check riders in. "I don't bike too often, but I was still looking for a way to support this amazing fundraising event for Lombardi Cancer Center," she said.
In addition to having a way to support Georgetown Lombardi, Thornton was excited to volunteer with her colleague, Tyrisa White. "It's a great opportunity for us to spend time together outside of the office and support a very special cause," she said.
White previously worked with oncology patients as a member of the administrative care team before assuming her current role as executive assistant with the Center for Patient Safety at MedStar Georgetown. She also volunteered at the rider registration table.
"I volunteered because I have seen firsthand how cancer research can impact the lives of so many," White said.
Connecting for a Good Cause
In addition to supporting cancer research at Georgetown Lombardi, Susan M. Cheng, EdLD, MPP, senior associate dean of diversity, equity and inclusion and associate professor of family medicine at the School of Medicine, participated in the 25-mile BellRinger ride.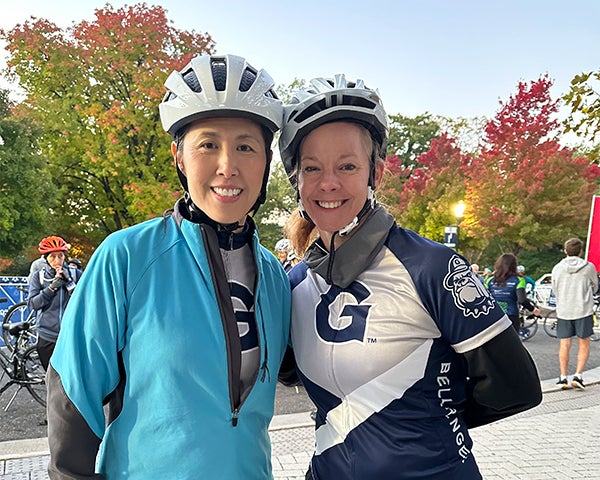 "Connecting recently with friends and family to fundraise for cancer research has been fulfilling and going on these beautiful training rides in NoMa and near the D.C. waterfront and seeing nature and parts of D.C. 'off the beaten path' that I've never seen before, individually and with members of my team, has been incredibly motivating," she said.
Cheng was part of the LCCC Cancer Prevention and Control Peloton along with Kristi Graves, PhD, associate dean of faculty development at Georgetown University Medical Center and associate professor of oncology at Georgetown Lombardi, who also rode 25 miles.
"The BellRinger ride was a lot of fun — the sense of all working together for an important cause was palpable," Graves said. "I felt a sense of pride and community at the end of the race."
The first BellRinger ride won't be the last for Graves. "I am already looking forward to next year!" she said.
Cheng agreed. "Pushing myself towards riding 25 miles and doing it for a good cause has helped me to expand my thinking about what I am capable of doing," she said. "Next year, I'll shoot for 50 miles!"
Kat Zambon and Heather Wilpone-Welborn
GUMC Communications
---
Scenes from BellRinger 2022
Images by GUMC Communications unless otherwise noted