Georgetown Lombardi Arts and Humanities Online Classes Build Communities Across the Globe
Posted in Lombardi Stories | Tagged Arts & Humanities Program, COVID-19
(May 26, 2022) — For many students whose classes pivoted to virtual platforms during the pandemic, returning to in-person learning couldn't come soon enough. But for participants in Georgetown Lombardi's Arts & Humanities Program (AHP), many are hoping that online classes will be here to stay.
Virtual Learning Goes Global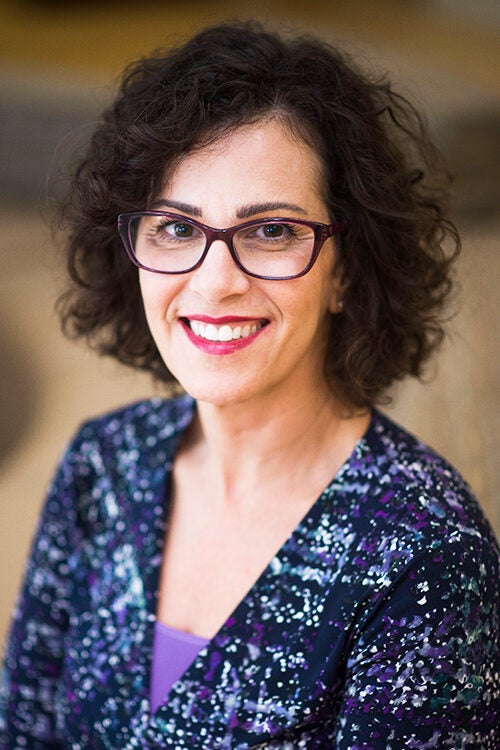 Before the pandemic, Julia Langley, MA (EMBA'22), faculty director of the AHP, was accustomed to her team of artists offering diverse in-person classes at Georgetown Lombardi. The artists provided classes in expressive writing, collage-art, knitting, yoga and movement/dance.
When Langley realized early on in the pandemic that in-person activities would not soon resume, she decided to experiment with moving some of the AHP classes online via Zoom and providing free tickets through Eventbrite. The first class, "Unite in Rest: Gentle Yoga for Every Body," went live in May 2020, and then fall classes began in October 2020.
Langley did not expect that the classes would become so popular so fast. Nor did she anticipate that they would attract participants from such a wide geographic spread, including 22 states, 23 countries and six continents.
The AHP has offered more than 65 online courses, and in the winter 2022 classes, over 225 people participated each week. Several participants attend multiple offerings of a single course. Others enroll in several different courses to try various forms of artistic expression and meet and interact with new online friends.
"The most exciting thing to me is building out the Lombardi community by offering these healing classes," Langley said. "I think what keeps many students coming back is the high quality of the instruction."
Artist-Inspired Creations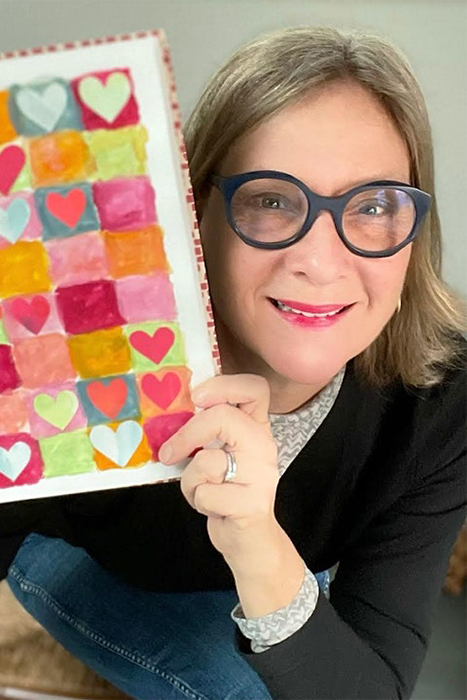 Jennifer Wilkin Penick, an AHP mixed-media Artist-in-Residence and occasional instructor at the Arlington Arts Center in Virginia, teaches a popular course called "Creativity Jumpstart: De-Stress with Art." Initially, this collage-art class was open to 20 participants, but now each session regularly attracts about 60 people. Participants are not required to have prior art experience or any special supplies.
"I provide the students with an open-ended word or idea prompt to get the project started. I try to connect the prompts to some aspect of contemporary art," Penick said. "I want the students, who have vastly different backgrounds, to see themselves as being inserted into this continuum of artists."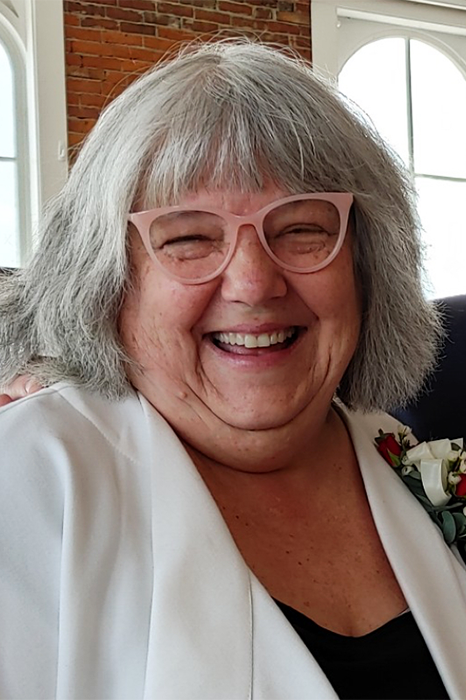 Penick encourages her participants to share their artwork with each other and has posted many of their pieces on her Padlet site. One participant in Penick's class is Cone Johnson, 64, an artist and user experience designer in Dallas. Johnson was diagnosed with endometrial cancer in 2019. She stumbled upon the AHP classes on Eventbrite when searching for free art classes. Since spring 2021, she has taken about 25 classes, including some with different AHP instructors.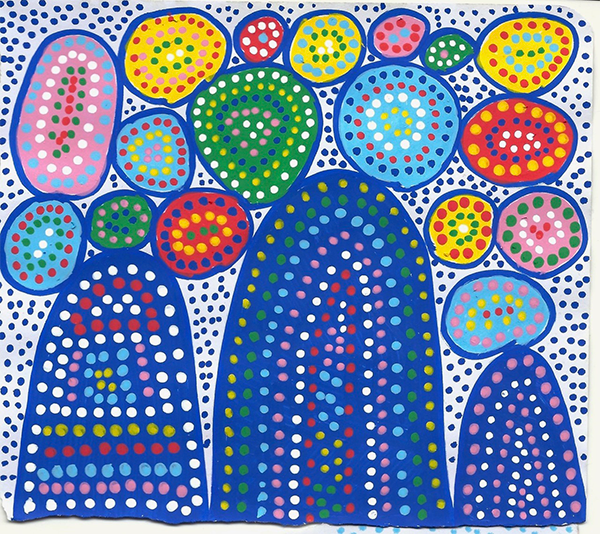 Penick's classes, in particular, resonate with Johnson. "Her classes provide some structure to my days, and it's helpful for me to set aside time to do art," Johnson said. "It's cathartic. I don't worry about what the final product will look like. I just enjoy the camaraderie and the sense of company."
Johnson said that she did not realize Penick's connection to Georgetown Lombardi initially, but was heartened when she learned about it because of her own journey through cancer treatment. "When I first started taking the class, I had lost my hair due to chemotherapy," she said. "After a while, it grew back, and I felt more comfortable turning my camera on during the class."
"Especially during COVID, it was easy to fall out of society," Johnson added. "But the online class opened up a new world for me. This outreach by the program has been so meaningful to me."
A Patient With Cancer Becomes a Poet With Cancer
Retired lawyer Carren Oler, 71, has always appreciated literature and writing, and is known in her family for being an engaging storyteller. As a metastatic breast cancer patient, Oler credited the team at Georgetown Lombardi for taking such good care of her, physically and emotionally. "They have not only been treating my cancer, but they have introduced me to the emotional anchor I find in writing poetry," she said.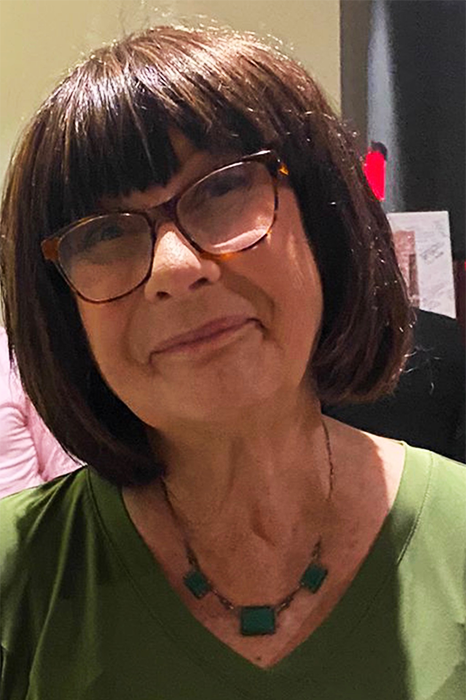 Oler is a longtime student of Michelle Berberet, a Word Artist-in-Residence at the AHP and expressive writing teacher. Oler estimated that she has taken over 100 classes with Berberet, including in-person at Georgetown Lombardi before the pandemic and several online. By following Berberet's writing prompts, she has written over 100 poems.
One of Oler's recent poems from a March 2022 class is called "The Cure for It All," inspired by a poem of the same name by Julia Fehrenbacher. Oler's piece concludes with this reflection: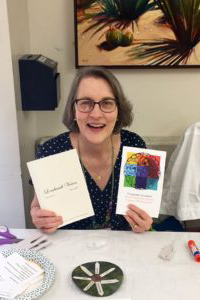 "My Lombardi doctors and colleagues,
Poets and patients, have given me hope
That containment, followed by cure, is near."
(Read full poem.)
"This writing program is like climbing a ladder," Oler said. "The writing and the other poets and participants are like scaffolding helping me in my life."
"I know from personal experience that writing our thoughts and feelings on paper can help improve our well-being," said Berberet, herself a breast cancer survivor. "The page accepts what we write without judgment. In my Expressive Writing Workshops, many participants choose to share the poems they have written because the workshops' members have become a safe, supportive community."
A Magical Community
When Langley reflected on the last couple of years, she realized that the classes have become a community of learning and support. "We are reaching people who are suffering from the isolation of COVID-19 and offering them a community," she said. "And it's not just people with cancer or chronic diseases, but everyone needs a creative outlet to get through these difficult times."
Though she and her team of artists look forward to welcoming their Georgetown Lombardi students back to in-person classes, Langley also plans to continue some of the online classes.
"Even though I'm not getting treatment at Lombardi, I'm getting wonderful benefits from the online classes," Johnson said. "This outreach is so meaningful, and I hope it continues."
For information about Georgetown Lombardi's AHP classes, see their Eventbrite page or email lombardiartsadmin@georgetown.edu.
Beth N. Peshkin
GUMC Communications
"The Cure for It All"
by Carren Oler
Inspired by poet Julia Fehrenbacher
March 29, 2022
* * *
There is no one cure
For it all.
We respond to different
Impulses that call
To us, inspire us
Give us hope –
That is what helps us cope
With illness we have not chosen
And has captured us frozen
In time.
The support of a caring community
Which shares a unity
Of purpose – is like a tonic
Strengthening us to adapt to chronic
Challenges!
And yes, to deeply breathe, to read,
To seize the future
And intimately to share
What scares us –
That is what builds our courage.
Mark Twain said,
"Courage is resistance to fear,
Mastery of fear, not absence of fear."
My Lombardi doctors and colleagues,
Poets and patients, have given me hope
That containment, followed by cure, is near.