Eleventh Annual Women & Wine Raised Record Funds, Support and Hope
Posted in Lombardi Stories | Tagged Lombardi Women, philanthropy, Women & Wine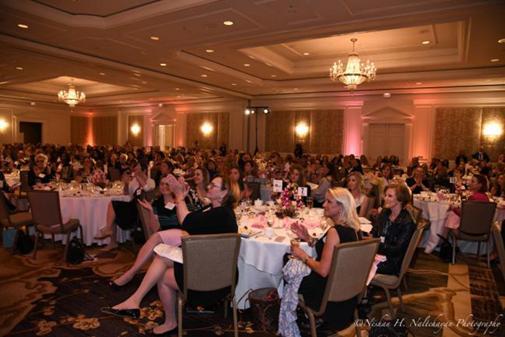 April 29, 2016 — With more than 600 attendees, the 11th Annual Women & Wine fundraiser for the Nina Hyde Center for Breast Cancer Research at Georgetown Lombardi Comprehensive Cancer Center took place at the Ritz-Carlton in Tysons Corner.
The April 20 event began with a luxurious cocktail hour and a silent auction featuring art, restaurant gift cards, jewelry and more, all to benefit the cancer center.
Claudine Isaacs, MD, professor of medicine and co-director of the breast cancer program at Georgetown Lombardi and Shawna Willey, MD, professor of clinical surgery and director of the MedStar Regional Breast Health Program, gave briefings on the latest advances in breast cancer treatment and research.
"The great news about breast cancer is that survival rates keep improving. Over the last number of decades, we have made tremendous advances as a medical and research community," said Isaacs, who also serves as the medical director for the Fisher Center for Hereditary Cancer and Clinical Genomics Research.
Isaacs also described how increased funding has contributed to these advances in research. "Since the event's inception in 2006, its dedicated committee has successfully grown it from 100 attendees and $22,000 in funds raised to 600 attendees and over $400,000 in funds raised," she said. Moreover, Georgetown Lombardi researchers "have secured an additional $6.87 million in follow-on project funding from the government and private foundations in the last few years," setting them up for future research success.
The funds raised through events like Women & Wine have led to research advances at Georgetown such as the development of nipple-sparing mastectomies, Willey said. The goal of the procedure, which has earned Georgetown recognition on a national level is to is to "offer women with high risk of breast cancer the ability to preserve the appearance of their bodies," she said.
Women & Wine also featured an address from Greta Kreuz, a veteran broadcast journalist who served as the event's celebrity honorary chair. Kreuz also recognized the Lombardi Spirit of Life honoree, Claire J. Madden. While talking about her journey from diagnosis to treatment and beyond, Madden described her goal as an advocate: "If it brings something to some other people to see what I've done and how I've got through it, then that's a good thing."
Christie Maillet
Georgetown Lombardi Communications