CBCC Celebrates Decade of Service at Gift of Life Breakfast
Posted in Lombardi Stories | Tagged breast cancer, cancer, Ralph Lauren Center for Cancer Prevention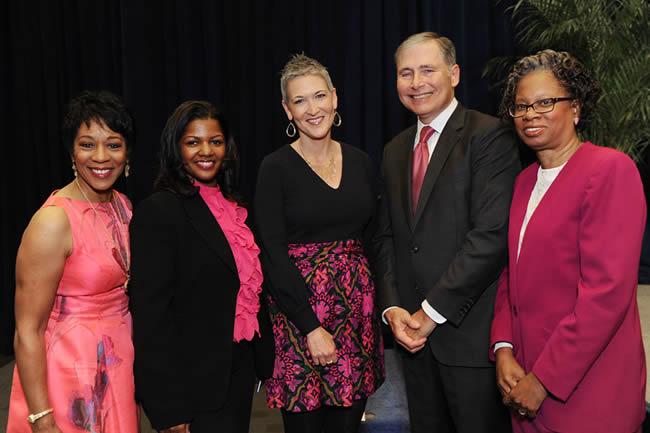 (October 10, 2014) — Capital Breast Care Center (CBCC) hosted its 7th annual Gift of Life Breakfast today, where CBCC's loyal supporters gathered to pledge their continued support for CBCC and its mission.
CBCC is a community-based program of the Office of Minority Health and Health Disparities Research at Georgetown Lombardi Comprehensive Cancer Center. The program was founded in 2004 to ensure that all women in the District have access to necessary breast care services.
Nearly 200 community partners and donors gathered at the Ronald Reagan Building and International Trade Center for the breakfast benefit, which raises funds to provide free quality breast health care and navigation services to underserved and minority populations from the D.C. metropolitan area.
10 Years Strong
This year's event serves as a milestone for CBCC, which is celebrating its 10-year anniversary.
"CBCC is the light at the end of the tunnel for more than 12,000 women who have received services at our site to date, regardless of their ability to pay or their insurance status," said Lucile Adams-Campbell, PhD, associate director for Minority Health and Health Disparities Research at Georgetown Lombardi.
"CBCC ultimately seeks to decrease the disproportionate rates of breast cancer mortality in underserved communities and with your continued support, we will reduce this disparity," she added.
Georgetown Lombardi Director Louis M. Weiner, MD, followed with a brief discussion of breast cancer statistics while highlighting the communal need for CBCC and the individual lives that are touched by the organization.
"Numbers don't lie. In 2013 there were 235,000 cases of breast cancer in the United States, and there were 40,000 deaths. In the District of Columbia, there were 450 breast cancer diagnoses and 80 deaths," said Weiner. "In that respect, we are No. 1 in the country [in terms of mortality]. CBCC is doing something about this."
D.C. Council Member Yvette Alexander also underscored the Council's commitment to tackling the high breast cancer mortality rates in the District.
"As a representative of Ward 7, I am committed to budgeting all that I can in terms of chronic illnesses to include breast cancer," said Alexander. "It's very important that we do all that we can do as a government, and as a Council, to make sure that we get the word out and to make sure that we invest the dollars where they are needed."
Alexander recruited over 40 people for a boot camp program run by the Office of Minority Health and Health Disparities earlier this year.
Additionally, CBCC Community Advisory Council Chair Alexine Jackson, who is a 22-year breast cancer survivor, spoke about CBCC's commitment to enhanced community engagement as a means of engaging those women in the region whose lives have been affected by cancer.
Making a Direct Impact
One CBCC patient gave thanks at the Gift of Life Breakfast, serving as an example of how the services at CBCC directly benefit women in the community.
Ruth Benitez recounted her first experiences with CBCC after finding a lump during her monthly self-breast exam several years ago. Benitez, who did not have insurance at the time, was able to receive free quality services at CBCC including a clinical breast exam, diagnostic services and navigation.
"I am a survivor of cancer," said Benitez. "I give thanks to CBCC because they help every woman with this disease and because they gave me this opportunity to be here with you."
The keynote speaker for the event was Fox News correspondent and author Jennifer Griffin, who shared her own intimate experience as a cancer survivor and former patient of Shawna Willey, MD, at Georgetown Lombardi (see video excerpts of Griffin's speech below).
Griffin, who was diagnosed with breast cancer in 2009, was awarded the Women and Wine Lombardi Spirit of Life Award in 2011 in honor of her commitment to breast cancer research and advocacy. Griffin explained to the audience why breast care is so important for the region's underinsured and uninsured.
"The doctors at Georgetown Lombardi literally saved my life," said Griffin, who at points was overcome with emotion. "Absolutely everyone deserves access to the incredible treatment that Dr. Willey and her colleagues provided me."
Call to Action
The event concluded with a call to action from the event's emcee, WUSA-9 news anchor Andrea Roane.
"With your support, CBCC can continue to provide breast and cervical cancer screening services, education and outreach, and transportation to women who are often ignored," said Roane, a member of the CBCC Community Advisory Council.
"It is important to remember that CBCC does not turn anyone away—they reach out, they empower and if necessary, they transport. They listen, they care."
By Cherisse Cobrand
Georgetown Lombardi Communications