Cancer Research Takes Center Stage at Annual Lombardi Gala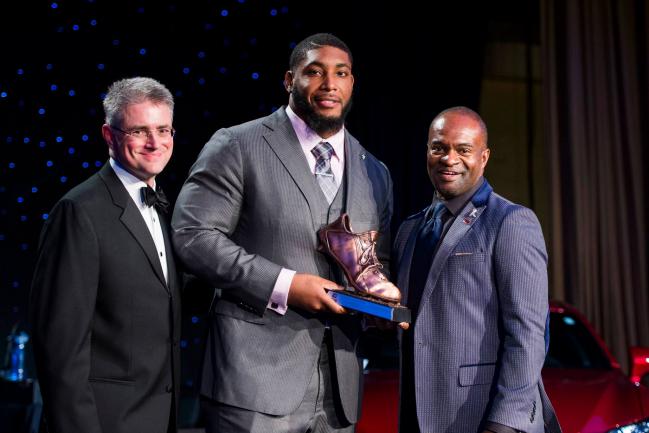 Posted in Lombardi Stories | Tagged cancer research, Lombardi Gala, philanthropy
October 30, 2015 — At the 29th Annual Lombardi Gala on October 24, nearly 800 advocates, cancer survivors and community leaders gathered at the Washington Hilton to show their support in the fight to eradicate cancer. Attendees raised funds for cancer research, education and treatment, bringing the total proceeds since the Gala's inception to approximately $23 million.
In addition to a reception for VIP guests and a silent auction, the black-tie event featured a dinner program with speeches from several honorees.
From the Lab to the Ballroom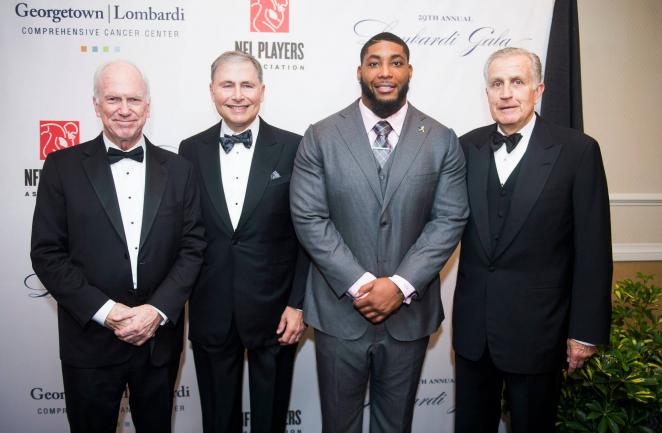 One highlight of the evening was the presentation of the NFL Players Association Georgetown Lombardi Award to football player Devon Still. The award honors a leader in the sports industry whose life and family have been impacted by cancer, and who promotes cancer research, prevention and treatment through awareness and philanthropy. Still, whose five-year-old daughter Leah was diagnosed with neuroblastoma last year, has dedicated himself to shining a spotlight on childhood cancer.
"I thought the highlight of my whole weekend would be sharing this stage with the many people who won this award before me," said Still. "But I have to admit, the highlight was being able to meet with the people who made this Gala possible and hearing their connections with cancer. Since my daughter was diagnosed with cancer, my mission has been to raise as much awareness as possible, to help families who weren't blessed with my position by giving them a voice."
The day before the Gala, Still and NFLPA executive director and honorary gala chair DeMaurice Smith visited Georgetown Lombardi, where pediatric oncologist Jeffrey Toretsky, MD, took them on a tour of his research lab. Toretsky gave both men lab coats embroidered with their names, declaring them "scientists for a day." He then walked from one end of the lab to the other, explaining how cancer cells grow and the process scientists use to find cancer-targeting drugs. Both men got the chance to peek at a cancer cell through a microscope and see what tumors looked like up close. Toretsky even drew illustrations on a white board to show how researchers have tried to inhibit cancer on a genetic level.
At the Gala, Still reminded the audience how advocacy can be a powerful tool, enabling scientists to do what they do best.
"As long as I have this platform, I want to continue to raise awareness and money so that researchers like Dr. Toretsky can one day find a cure and make sure no other family knows the pain of battling cancer," he said. "I know it's not going to be easy, but as long as we have galas like this and continue to bring cancer to the forefront of America, one day, we can put this word behind us and it can be a thing of the past."
Advancing Research
Still's speech illuminated a prominent theme of the evening: the importance of cutting-edge research for finding better treatments and, ultimately, a cure.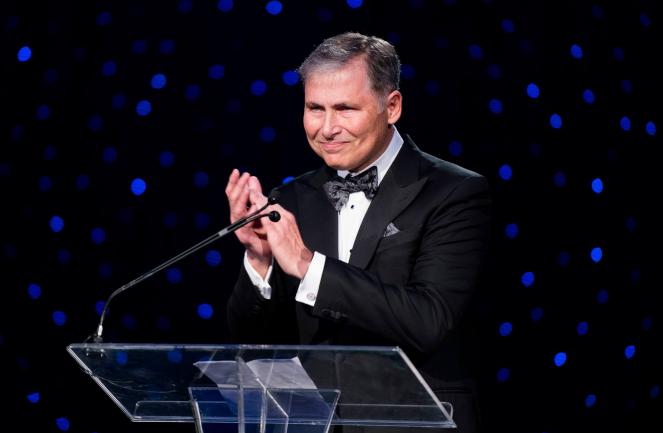 Louis M. Weiner, MD, director of the cancer center, described how supporters' contributions allow Georgetown Lombardi patients to receive "tomorrow's treatments today." As an example, he explained how immunotherapy has advanced cancer treatment by using the body's own immune system against metastasizing cells. The groundbreaking approach works well, he said, but there is still work to be done.
"We have the drugs to do the job. Now we need to learn who should be treated, with what drugs and when, and for that, we need a game plan. No more one-size-fits-all therapies. We need to be able look at a person's tumor using new tools that will help us achieve the dream of precision medicine – treating the right person with the right medicines at the right time."
Smith urged the audience to make this dream a reality by raising money for a high-tech microscope. While people's donations appeared on the ballroom screen in real-time, he simultaneously took bids on a pair of premier tickets to the 50th Super Bowl. The combined appeals collected $55,000.
Edward Healton, MD, MPH, executive vice president of health sciences and executive dean at Georgetown University Medical Center, emphasized Georgetown Lombardi's status as a comprehensive cancer center, as designated by the National Cancer Institute. It is one of only 45 cancer centers in the nation to have the designation, and the only one in the Washington, D.C. area.
"Not only does all the staff of Georgetown Lombardi provide exceptional care to their patients, they also are engaged in groundbreaking research, ranging from basic science to applied and translational research across a range of cancers, as well as important cancer prevention and community education initiatives," said Healton. "It is this combination of patient care, research, education and community engagement that makes the cancer center's work so powerful and so successful."
Supporting Lombardi: A Family Tradition
Throughout the evening, several speakers acknowledged the dedicated service of the Gala's sponsors, volunteers and supporters.
As the children of the Gala's founder, Walter Hodges and Laurie Hodges Lapyere presented the Margaret L. Hodges Leadership Award to the Washington Area Lexus dealers. The dealers, comprising Lindsay Lexus of Alexandria, Lexus of Silver Spring, Lexus of Rockville and Pohanka Lexus of Chantilly, were honored for their long history of philanthropic support to the cancer center. For the thirteenth year, they donated a brand new Lexus automobile to raise funds, and served as the event's exclusive automotive sponsor. This year, they raffled off a RC 350 F Sport, continuing a tradition that has collected more than $578,000 for the cancer center over the years.
"We don't approach cancer like we did 30 years ago," said Hodges, who became emotional as he recounted Lapeyre's breast cancer diagnosis six years ago. "It's not 'the big C.' It's not a death sentence. That is because of places like Lombardi, and because of people like you." As of this month, Lapeyre is cancer and medication free.
Looking out on the audience, Vincent Lombardi II spoke on behalf of the famed Green Bay Packers coach, after whom Georgetown Lombardi is named.
"My grandfather would be proud of everybody in this room," he said. "He would be proud of the volunteers who made this event happen. He would be proud of those who donate. And he would be proud to have his name on the cancer center."
Meghan Lasswell
GUMC Communications