Can Green Tea Prevent Liver Cancer?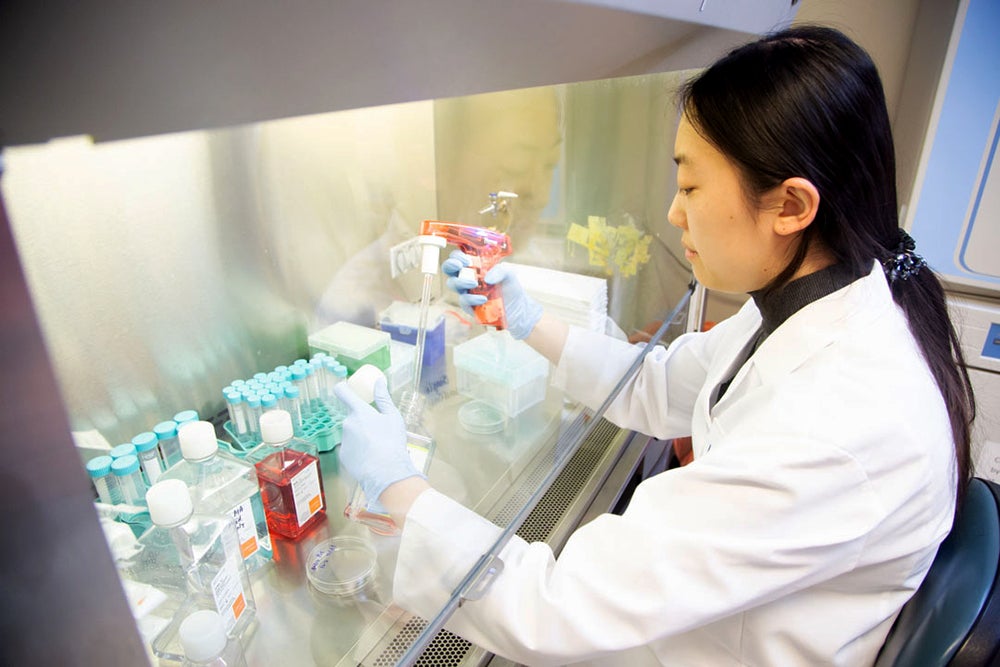 Posted in Lombardi Stories | Tagged cancer, liver cancer
(July 13, 2019) — Growing up in Taiwan, Fung Lung Chung remembers his mother always telling him tea is for good health and serving everyone steaming hot green tea after meals. It is not a coincidence that later in life, Chung would conduct research on the compounds in that very tea, and what he found is now the basis of a clinical trial to help prevent liver cancer.
"I can't wait to find out if my mother was right," says Chung, PhD, a Georgetown University basic science researcher and oncology professor.
Chung and his Georgetown colleague, Associate Professor of Oncology Aiwu Ruth He, MD, PhD, are testing the power of an extract found in the green tea.
The clinical trial He is leading, based on findings from Chung's research, is enrolling people with liver cirrhosis (or inflammation and scarring), who are at substantial risk of developing tumors.
The quest to prevent cancer in cirrhotic livers is not trivial. Over the past 15 years, liver cancer rates have increased more than 40 percent, according to the U.S. Centers for Disease Control and Prevention (CDC). Not insignificantly, the CDC reported that Washington, DC, has the highest rate of increase in liver cancer in the country.
Now, approximately 55,000 new cases are diagnosed each year in the U.S., with about 42,000 deaths, according to the American Cancer Society (ACS). Worldwide, the toll is 800,000 new cases annually and 700,000 deaths, making it the second leading cause of cancer worldwide.
The ACS also says most people who develop liver cancer already have some evidence of cirrhosis.
Biomarker Predicts Liver Cancer
The extract Chung studies is Theaphenon E (TE), produced in Japan. It consists of catechins, a group of flavonoids that possess antioxidant properties. Green tea is about 30% catechins by weight
Animal studies as well as research in human liver biopsies have shown that Chung's compound, TE, can stop cancer transition if the liver produces a particularly dangerous chemical that can cause DNA damage, which can eventually lead to a buildup of mutated genes. TE minimizes the DNA damage.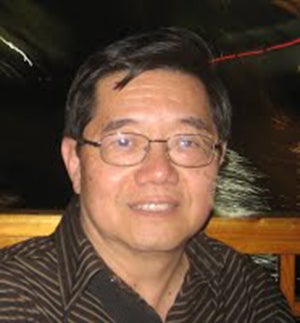 Chung's lab found a biomarker, γ-OHPdG, a type of DNA damage arisen from oxidation of polyunsaturated fatty acids, in liver tissue to predict liver cancer development based on studies in mice.
In two independent sets of liver tissue biopsies from 90 and 45 patients, Chung and his team with He, the liver oncologist, showed that higher levels of γ-OHPdG were strongly linked to shorter survival and low recurrence-free survival, respectively. The studies thus suggested that levels of γ-OHPdG predicted prognosis of liver cancer in these patients.
The investigators then found in other animal studies that administering TE in safe doses to mice effectively suppressed the levels of γ-OHPdG in livers. In parallel with these results, it also reduced or blocked liver cancer development by more than 80% to 100%, depending on the animal models used.
What was equally striking is that γ-OHPdG is an "endogenous" lesion — DNA damage produced primarily within the body that is not due to external carcinogenic exposure.
"This type of DNA damage could be more deadly than those caused by environmentally exposed carcinogens because the body can't catch up to repairing all the bad DNA that forms continually and accumulates," says Chung. "γ-OHPdG can also rise due to environmental exposure, such as smoking, that may play some role in the increased risk of cancers in this particular population. Because of its constant and ubiquitous presence, finding these endogenous processes and factors is one of the keys to understanding why cancer develops."
Strategy to Prevent Cancer
These findings were so remarkable that Chung and He were invited to present them to the National Cancer Institute's Division of Cancer Prevention in 2017. The findings were also published last year in the journal Hepatology, along with an editorial that stressed the importance of this work.
There is a high rate of cancer recurrence after liver cancer resection. Based on the preclinical and clinical data, He, a medical oncologist who has cared for patients who had cancer recurrence after surgical resection, believes that treatment with PE, a green tea polyphenol extract, may prevent cancer recurrence in a patient after a curative resection of liver cancer.
Chung and He were hoping to obtain federal funding for a clinical trial aimed at stopping liver cancer from coming back in patients who had had their cancer surgically removed.
But the NCI chose a more ambitious approach. Investigators wanted to test if green tea could stop liver cancer from ever developing in patients with cirrhosis.
After all, Chung says, it is better to prevent cancer than treat it. "It is estimated that 70 to 80% of human cancers can be prevented, and that is a huge number. But you need to come up with a both effective and practical strategy to do that."
Enrollment Begins
The new NCI-funded trial is being led by Ruth He and is being conducted with Georgetown Lombardi's clinical partners, MedStar Georgetown University Hospital and MedStar Washington Hospital Center, and at the University of Puerto Rico (liver cancer is common in Puerto Rico).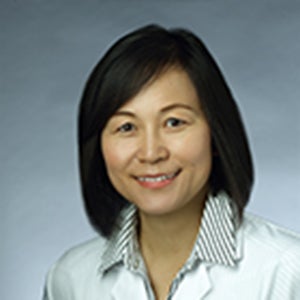 Every year, 3 to 5% of cirrhotic patients develop liver cancer. The accumulative risk of developing liver cancer in a cirrhotic patient over many years increases significantly. This innovative clinical trial will try to use a biomarker to enrich and select the patient population, who are believed to be at a higher risk of developing liver cancer, to receive a treatment to prevent or lower the cancer risk.
The phase I study is designed with two main goals in mind: first, to ensure the extract's safety and to determine what might be the best amount of extract (dose) to give people, and second, to assess if taking the green extract capsules can decrease the levels of γ-OHPdG in the livers of these patients.
Participants will have a needle biopsy of their liver both before and at the end of the study and results will be compared. Patients will be given different doses of PE, although the doses are considerably higher than what a green tea drinker might have each day.
With the first patient of the hoped-for 48 participants enrolled, He is delighted that the trial is underway.
"There is no way now to prevent liver cancer from developing in patients with or without cirrhosis. This is a huge unmet need," she says. "And to think that a possible preventive compound is not a drug, but a natural compound in a much beloved tea is fantastic."
Aiwu Ruth He, MD, PhD would like to acknowledge the guidance and advice of Seema A. Khan, MD, Professor of Surgery at Northwestern University, and Luz Maria Rodriguez, MD, FACS, at the National Cancer Institute, on the design of this trial.