BellRinger 2023 Celebrates Community Dedicated to Ending Cancer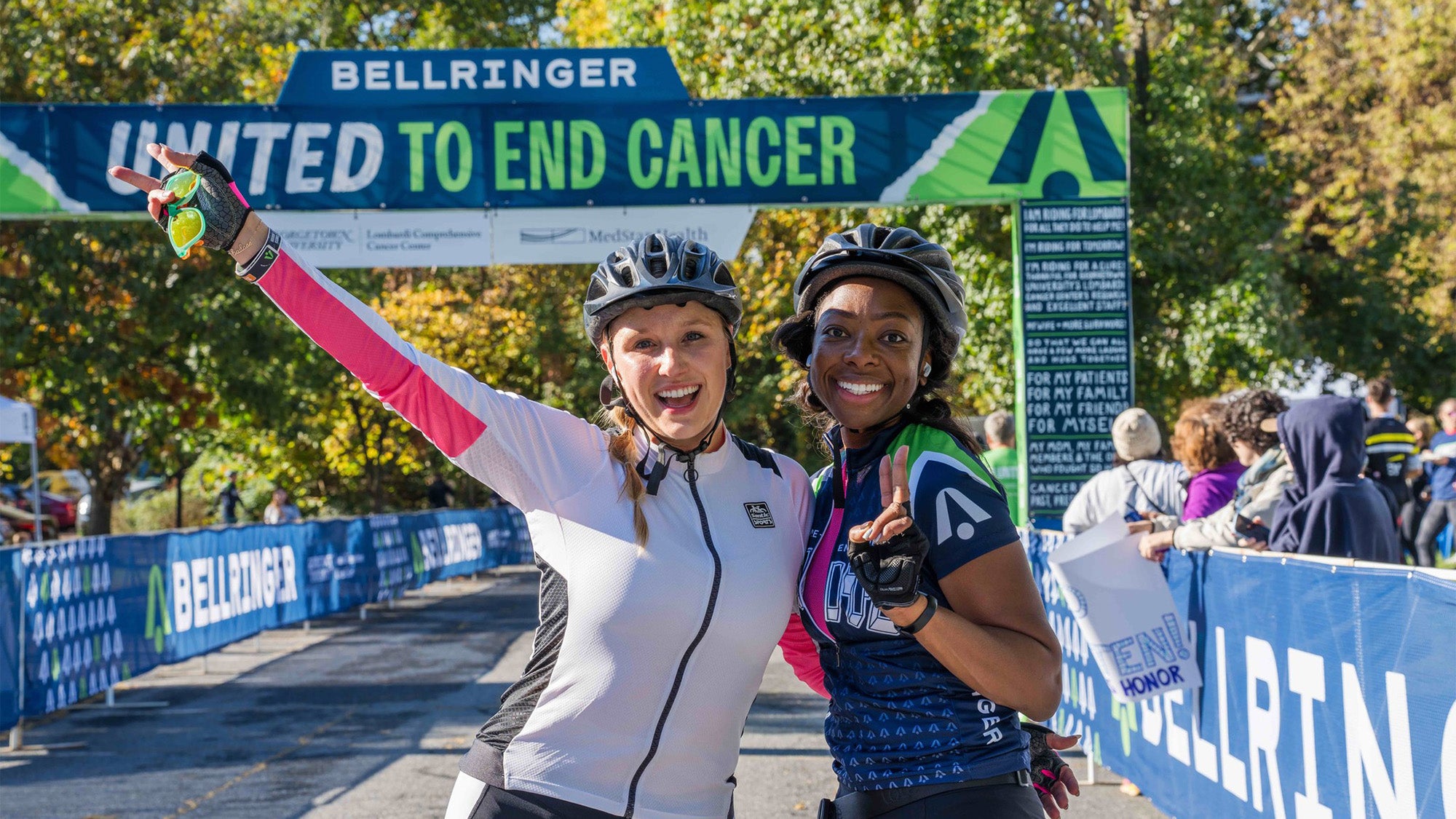 Posted in Lombardi Stories | Tagged BellRinger, philanthropy
(October 28, 2023) — BellRinger's second annual ride brought together nearly 1,000 riders, more than 400 volunteers and countless supporters, all committed to giving researchers at Georgetown University's Lombardi Comprehensive Cancer Center the funding they need to prevent, treat and cure cancer.
"2023 is about unity for us," said Chris Timko, BellRinger executive director, at the event's opening ceremony on October 20 in Georgetown University's Higgins Plaza. "It's about uniting and building teams, and we have over 150 teams joining us here tonight from all walks of life from DC, from corporate groups to student groups and community organizations all represented, and that's what BellRinger's all about."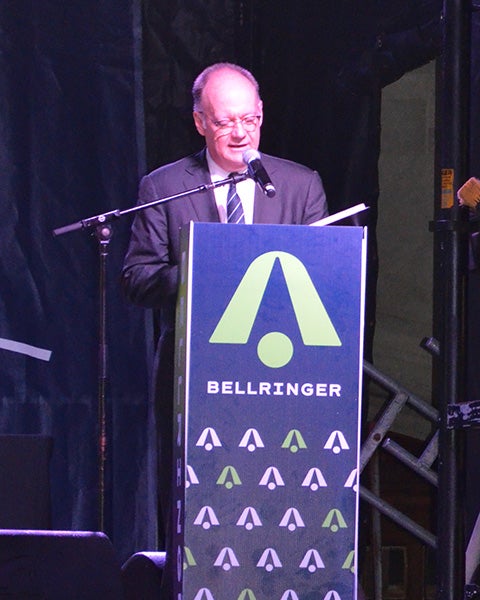 Participants in the BellRinger rode 25, 50 or 100 miles beginning at Georgetown and winding through Maryland's Montgomery and Frederick counties on October 21. BellRinger T-shirts, jerseys, banners and starting line signage echoed the unity theme across campus.
"I know that each of you here have dedicated a significant amount of your time and energy to supporting BellRinger this year," Georgetown President John J. DeGioia said to riders at the opening ceremony. "We could not be more grateful for your efforts to ring the bell on cancer for good.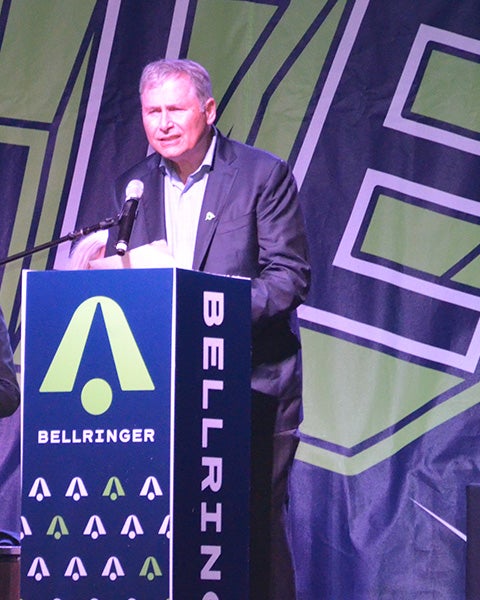 "BellRinger is not just a bike ride," DeGioia added. "It means so much more than just the miles traveled. So many in our community are impacted by cancer, making our work to fund new research so fundamental and so crucial."
In its inaugural year, BellRinger raised $1.45 million, which is currently being used at Georgetown Lombardi to support research on brain tumors, cell biology and molecular genetics, and metastatic colon cancer, said Louis Weiner, MD, Georgetown Lombardi's director.
"The [ride] we do tomorrow is going to help us raise money that is going to save lives," Weiner said. "We don't know how many lives will be saved, but we know that every turn of a pedal, every mile we ride, takes us that much closer to a world without cancer."
Drawing Inspiration from the BellRinger Community
Recalling a planning meeting for BellRinger's inaugural ride, Lisa Boyle, MD, president of MedStar Georgetown University Hospital and senior vice president of MedStar Health, BellRinger's clinical sponsor, shared that the ride was described not as an event for cyclists but for people who hate cancer. As an avid cyclist and health care provider, that message resonated with her.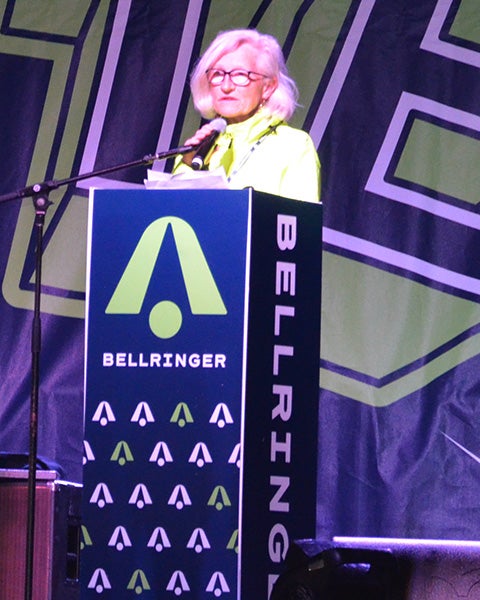 "I'm a surgeon, a cancer surgeon, and during my 35-year career as a cancer surgeon, I've cared for thousands and thousands of patients with cancer," Boyle said at the opening ceremony. "And I'd say that much of the time, we won the battle but way too often, we didn't. And I witnessed firsthand at patients' bedsides, holding the hands and comforting grieving family members when this disease was unable to be cured."
"It is my aspirational hope and dream that with the help of people like you supporting the transformational work that's being done in institutions like Lombardi Comprehensive Cancer Center, that future generations of patients can be afforded the best possible outcomes in their fight against this disease," she added.
Weiner felt optimistic to see members of the community gather to support cancer research through BellRinger at the opening ceremony.
"Now over my career, I've never been more hopeful to have felt a stronger calling to advance the work that we're doing," he said. "You're an inspiration and I cannot wait to ride with you tomorrow."
Building a Community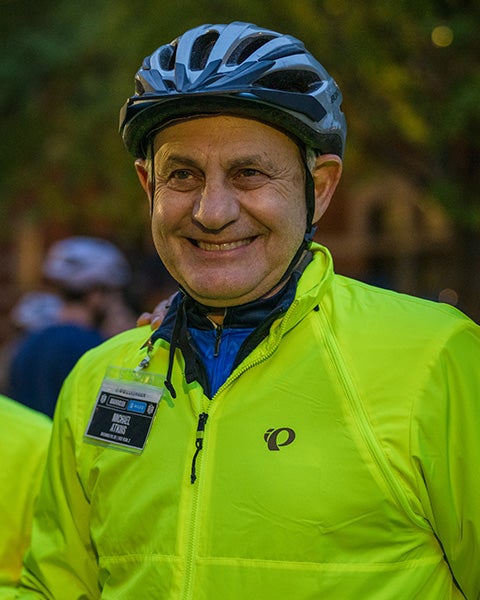 Before starting at Georgetown Lombardi as deputy director, Michael B. Atkins, MD, spent several decades working in Boston, home of the Pan-Mass Challenge, a bike race with more than 10,000 riders that benefits the Dana Farber Cancer Institute.
"When I moved to DC, I wanted to replicate this experience," Atkins said. "Georgetown Lombardi, being the only NCI-designated comprehensive cancer center in DC, together with its partner MedStar, is every bit as worthy of community support as the Dana Farber."
Atkins encouraged the riders to work together to build a community of dedicated cyclists and volunteers to ensure BellRinger's success in the long run.
"Please take your time to both savor the Maryland countryside and to talk and get to know your fellow riders and volunteers," he said. "Help us build a community committed to lowering the death rate from cancer and to creating more cancer thrivers."
First-Time Riders Gear Up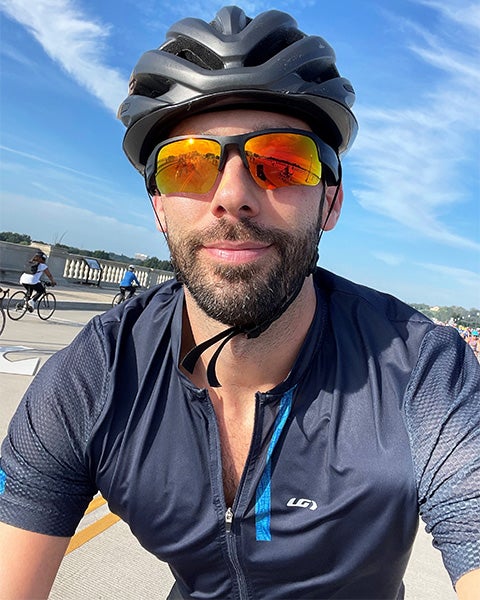 Being a part of "the incredible community" has been the most rewarding aspect of participating in BellRinger, said Fitz Lufkin (C'11, G'12), president-elect of the Georgetown University Alumni Association and two-time BellRinger rider. "Every participant I've met has been excited and inspired by the mission," he said. "It's like one big family. And we're always welcoming new members!"
Clayton Douglas, an IT director for the State Department from Rockville, Maryland, was one of the 650 first-time BellRinger riders in 2023. A cyclist with more than 20 years of experience, Douglas signed up to ride 100 miles.
"I am excited," he said. "The length is not a problem. There's a lot of elevation. I think that's the more challenging part, but I'm looking forward to it."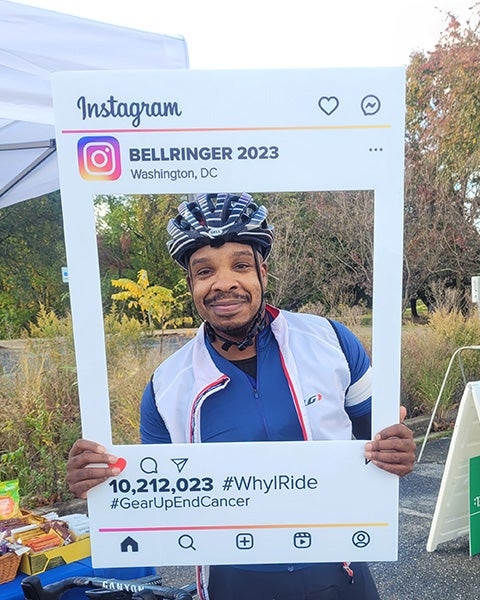 As he prepared to start the ride, Douglas said that supporting cancer research was his main motivation. "On a personal note, my mother-in-law was diagnosed with cancer last year," he said. "She was able to beat it so it's in remission, so it's great news, but I want to do the little bit that I can do to help eradicate this terrible disease. If I can help fund research to move that effort forward, I'll do it."
After moving from Australia to New York City within the last year, Lillian Brown visited DC for the first time to ride 50 miles with colleagues from Macquarie Capital. "The most memorable part for me was riding through suburban Maryland and seeing the fall leaves, beautiful houses and gardens along the way," she said. "Having only moved to the U.S. this year, it was truly special to be able to see a new part of the country."
"The ride was absolutely fantastic and I loved every minute of it — really well-organized, great snacks and a super fun challenge to get up those hills at the end," she said.
A prostate cancer survivor who works at K&L Gates, David Formey also rode 50 miles as a cyclist in his first BellRinger Ride. "My hematologist/oncologist asked me to do it, and I like riding anyway, so I thought it was a good idea," he said. "I think there's several people in our DC office who have been treated here."
Though the route was challenging, with large hills and intense headwinds, Forney and teammates persevered. "It was worth the effort," he said.
Hoyas Hope for a Cancer-Free Future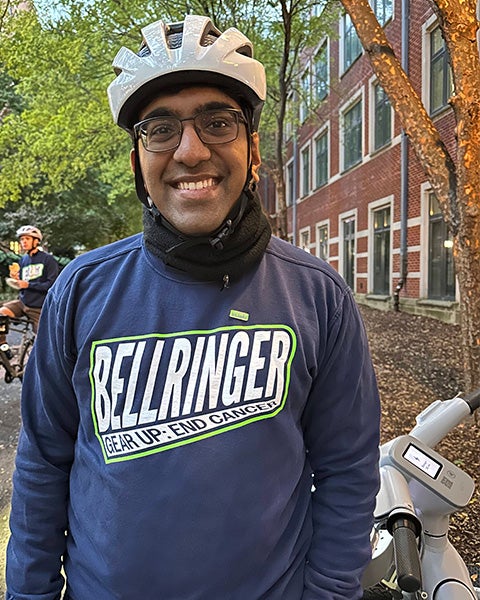 When Sidharth Jain (G'27, M'27) woke up the morning of BellRinger, he realized that his bike had a flat tire, prompting him to rent a bike from Capital Bikeshare. As a graduate student in tumor biology, Jain has seen firsthand how researchers can stretch their grant funding to make critical advances. "I see how a little goes a long way," he said.
Seeing so many people come together to support research at Georgetown Lombardi was a positive experience for Jain. "I think this is a really good way to do that and see the community rally around," he said. "I just like seeing the fact that it's the patients and the families and the researchers here."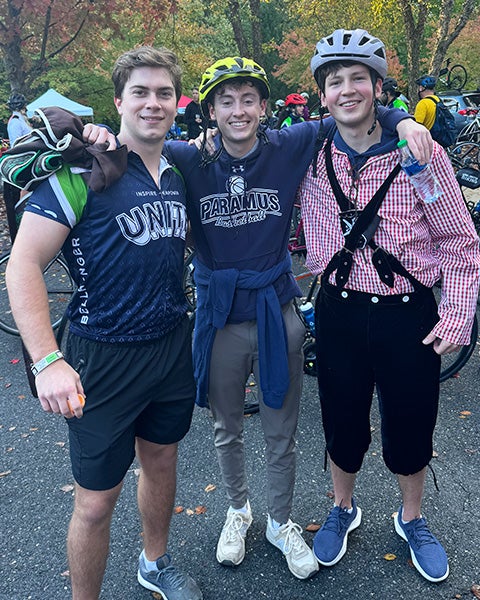 More than 50 riders participated in BellRinger as part of the Sigma Phi Epsilon team, including Ryan Montgomery (C'25), a finance and accounting double major who rode 25 miles for his second year. Being able to ride with other members of Sigma Phi motivated Montgomery, as well as his family connections to cancer. "Anything I can do to help give the brilliant minds fighting for a cure the resources necessary, I am happy to do," he said.
Montgomery called BellRinger a fun and fulfilling experience. "Being able to feel the full force of the Georgetown community and surrounding communities at 6:30 a.m. on a Saturday morning is something that is truly hard to describe," he said.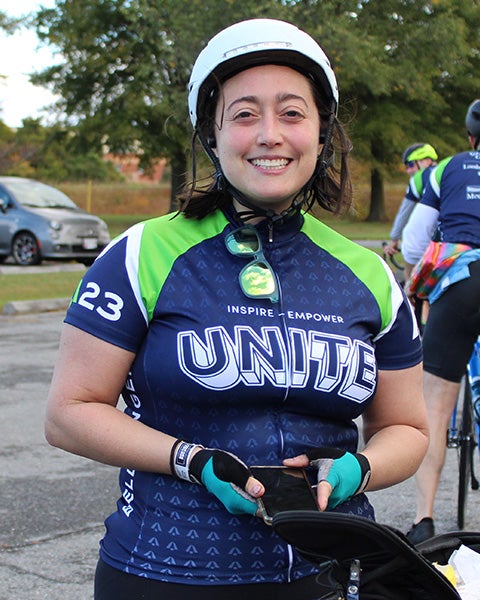 After participating in BellRinger virtually in 2022, Margaret Moral (C'01), a consultant at CGI Federal, was looking forward to riding the 25-mile route. "I'll be back for sure, whether it's volunteering or something else," she said. "This is a great event."
Brittany Strong, program director of business and management programs at the Georgetown University School of Continuing Studies, found out about BellRinger through a webinar for Georgetown employees. Though she's not a cyclist, Strong prepared for her 25-mile ride with her Peloton and the BellRinger training rides.
"I rode in the BellRinger for all my family members who have had to battle cancer," she said. "I also rode for the hope of a future with no cancer."
Kat Zambon
GUMC Communications