Addressing an 'Aching Need to do Something' About Pancreatic Cancer
Posted in Lombardi Stories | Tagged Lombardi Gala, pancreatic cancer, philanthropy
December 8, 2017 — Jeanne Ruesch is the first to say that the award she received November 18 at the 31st annual Lombardi Gala — the Margaret L. Hodges Leadership Award — was not really something she wanted. Rather, she said, the recognition chose her. "My involvement in cancer research and patient care was not a choice I made," Ruesch said. The 2004 death of her 64-year-old husband, Otto, from pancreatic cancer gave her and her family "an aching need to do something."
"Our personal loss made me understand the urgency of finding a cure," she said at the gala. "We need to save countless families from the loss of their husbands and wives, brothers and sisters, children and parents, to this deadly disease."
That desire to more effectively understand and treat pancreatic cancer, as well as other cancers of the GI tract, led to the 2009 creation of the Otto J. Ruesch Center for the Cure of Gastrointestinal Cancers at Georgetown Lombardi Comprehensive Cancer Center. Its mission is to refocus national efforts on curing this deadly set of diseases through research, patient care and advocacy. Led by John Marshall, MD, the Ruesch Center is now known internationally for its expertise in molecular medicine, translational research and a patient-centered philosophy.
"Progress in treating GI cancers was painfully slow, and so very many patients and families were suffering," Marshall said. "We needed a catalyst — Jeanne was the spark. We needed the freedom to innovate and the Ruesch family provided critical resources. We needed inspiration and Jeanne was always there leading the charge."
Grim Prognosis
Marshall, a global leader in the research and development of drugs to treat colon cancer, treated Otto Ruesch for pancreatic cancer at Georgetown Lombardi.
Both the Ruesches and Marshall shared disbelief that pancreatic cancer is so fatal.
"When Otto was treated, the survival rate was five percent. We had hope because his cancer, which was found in a normal checkup, was not advanced and that is not the usual way these cancers are detected," Ruesch said. "But Otto was not the exception. He lived 14 months."
"Like Otto, Dr. Marshall believes that the status quo in cancer treatment is simply unacceptable," Ruesch said when the ribbon was cut to open the center. "We have to find a cure. Our family wants to be part of the process."
Driven to Help Others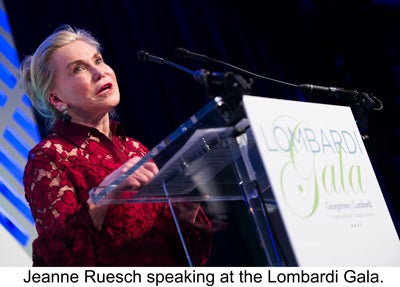 Jeanne Ruesch had the background needed to shine a light on the devastation caused by GI disease through advocacy and increased research funding for more targeted drugs.
A Texan, Ruesch moved to the District after graduating from the University of Texas at Austin. She came to work in government poverty programs, then narrowed her focus to helping young people in urban areas, first as a mentor and later by partnering with institutions to address the issues of young people were experiencing in underserved communities.
She met her future husband, a banker from Switzerland working in the U.S., in 1969 at a political event. After they married, the pair decided to start their own business in international finance. Otto was the entrepreneur while Jeanne was the expert in infrastructure and business planning. "It was a wonderful adventure," she said.
'This Can't Be!'
After Otto's death, Ruesch became entrepreneurial in a way she had never imagined.
Because the disease is so fatal, "you don't have many survivors getting involved in being advocates for the disease," she said. "It is up to those left behind to become the face of the disease."
So Ruesch, who heads the Ruesch Family Foundation Inc. that had largely been involved in funding education and the arts, began focusing on the cancer that picked her. She became chair of the board of directors for the Pancreatic Cancer Action Network, attended numerous national and international cancer meetings and worked to pass a Congressional bill to increase funding for pancreatic cancer research, among many of her advocacy efforts.
"This is what you have to do to make progress," Ruesch said. "I have become certainly more vocal than I ever thought I would be." What helps drive her, she added, "is Otto's voice in my head, saying 'You tell them — this can't be!' "
Credit the Patients
In the past decade, there has been progress in understanding pancreatic cancer. The survival rate is now about 9 percent, two significant new drugs have been introduced, GI researchers and physicians have become much more collaborative and there is a growing national awareness of the disease, she says.
But Ruesch claimed little part in this progress.
"While the work of John Marshall's team gives me hope, my inspiration comes from the patients they serve," Ruesch said at the gala. "Patients who live their days with strength and resilience, hope and courage, patients whose stories touch my heart and remind me of the urgent need to find a cure."
"This award, the Margaret Hodges Leadership Award, is really not for me," she said. "It is a tribute to the patients who inspire us day after day to live our lives bravely and fully."
Renee Twombly
GUMC Communications