A Cancer Survivors' Luncheon Like No Other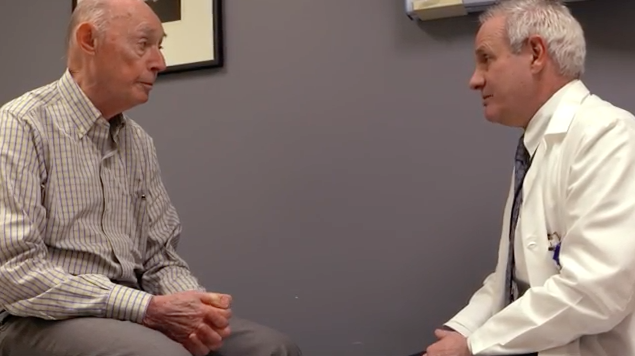 Posted in Lombardi Stories | Tagged cancer, immunotherapy, melanoma
(April 30, 2016) — Last year, Stanley Sher, a lawyer who lives in D.C., was certain his time was ending.
"I had reached a very low, low point — three surgeries, radiation treatment and nothing had worked," he said. "I was several months away from disappearing."
Leta Brown had a similar experience when, at age 43, she learned that a lumpy bruise on the back of her leg was a cancer that had spread to her lungs.
"When I got the news, it was really hard to get past the finality of it — that this was going to take away my daughters' mother," she said.
From Diagnosis to Disease Free
Both Sher and Brown had metastatic melanoma, a diagnosis that had been considered a death sentence due to the lack of effective treatments. Only half of the patients with this diagnosis survived beyond six to nine months with the previously available treatments.
But today, Sher and Brown are among more than 30 patients treated by Georgetown Lombardi Comprehensive Cancer Center physicians since 2013 who are now disease free and off of all cancer therapy.
Many of them will be guests at a Melanoma Survivors Celebration luncheon on May 6 at Georgetown University.
Research Leaders
Most of the patients were treated on clinical trials testing a combination of immunotherapy agents that were initially developed by Georgetown Lombardi investigators in collaboration with others.
The oncologist leading the trials at the cancer center, Michael Atkins, MD, has been amazed by the turn-around that the agents, known as checkpoint inhibitors, have made in the lives of patients with metastatic melanoma.
"While each patient's journey is unique and remarkable, all share a sense of renewed vigor that comes from having dodged a bullet through receiving therapy that had successfully eliminated what was previously considered to be a rapidly lethal cancer," says Atkins, the deputy director of the cancer center.
"While the checkpoint inhibitors are remarkably effective, producing durable tumor responses and likely curing 40-50 percent of the patients, these treatments are particularly beneficial when used in conjunction with a multidisciplinary approach to melanoma therapy," Atkins explains.
That means integrating the treatments with molecularly targeted therapy, surgical oncology and highly selective radiation treatment delivered by a team of experts in melanoma management.
Sea Change
"We are in the midst of a sea change in how we are treating cancer," Louis Weiner, MD, director of Georgetown Lombardi, told The Washington Post on April 19. "We're really seeing the fruits of many years of research into what drives cancer and how it interacts with the immune system to defeat it and survive."
Atkins and his colleagues, including Geoffrey Gibney, MD, continue to study the agents, striving to learn the ideal time to stop the treatment yet maintain a durable response, the best way to modify the drug combination to reduce side effects and how to integrate immune therapies with molecularly targeted therapies.
Cadre of Survivors
After their diagnoses, Brown, Sher and Teresa Pacheco, 75, were among the patients who found Atkins at MedStar Georgetown University Hospital and enrolled in the Georgetown Lombardi clinical trials.
Pacheco had a melanoma removed from behind her ear years ago, but it came back in 2013 and spread to her lungs. She and Brown participated in the initial trial of the combination immunotherapy regimen.
After a year of treatment with nivolumab (Opdivo) and ipilimumab (Yervoy), Brown was told there was no evidence of cancer on her scan.
"I can't believe how fortunate I am," she says. "This is an incredible gift."
After three treatments of combination therapy, Pacheco developed inflammation in her eyes, a side effect necessitating the treatment be halted.
"When I went for my checkup, Dr. Atkins had bad news and good news," she recalls. "He said, 'the manufacturer of the medicine doesn't want to continue the treatment because of your eye problems. That is the bad news. But the good news is that you are likely cured. You don't need any more treatments.'"
'I Am Back to Planning…'
Sher was diagnosed with desmoplastic melanoma, a rare and virulent subtype of melanoma.
Yet after just four weeks of treatment, Sher's tumor began to shrink. After eight weeks, it "disappeared — just disappeared. It was almost as though it had never been there — pretty close to a miracle," he says.
Since his last treatment in 2015, Sher has not had a recurrence. "If this happened to me four years ago, we wouldn't be having this conversation," he says.
"I am 80 years old and I feel excited. I am back to planning — doing things," Sher says.
He is doing "all the kinds of things you'd hope do in the golden age but sometimes you are robbed of it," Sher says.
"It is just amazing — I am now cancer free."
Renee Twombly
GUMC Communications