30th Anniversary Lombardi Gala Raises Record-Breaking Funds for Cancer Research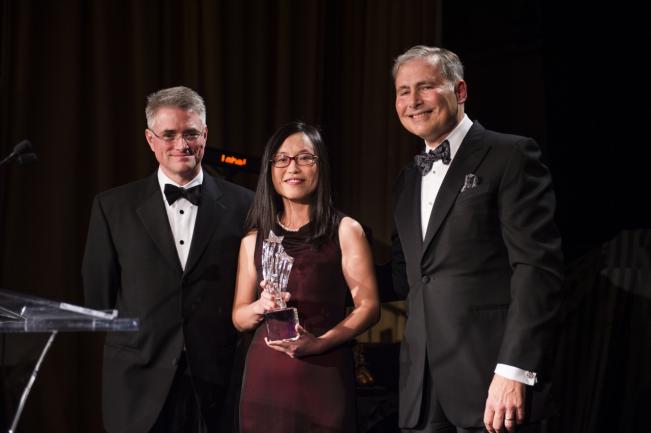 Posted in Lombardi Stories | Tagged Lombardi Gala, philanthropy
October 30, 2016 — More than 900 attendees raised more than $2.3 million for Georgetown Lombardi Comprehensive Cancer Center at the 30th Anniversary Lombardi Gala — the most raised at the event to date. The fundraising total included a $1 million gift for immunotherapy research.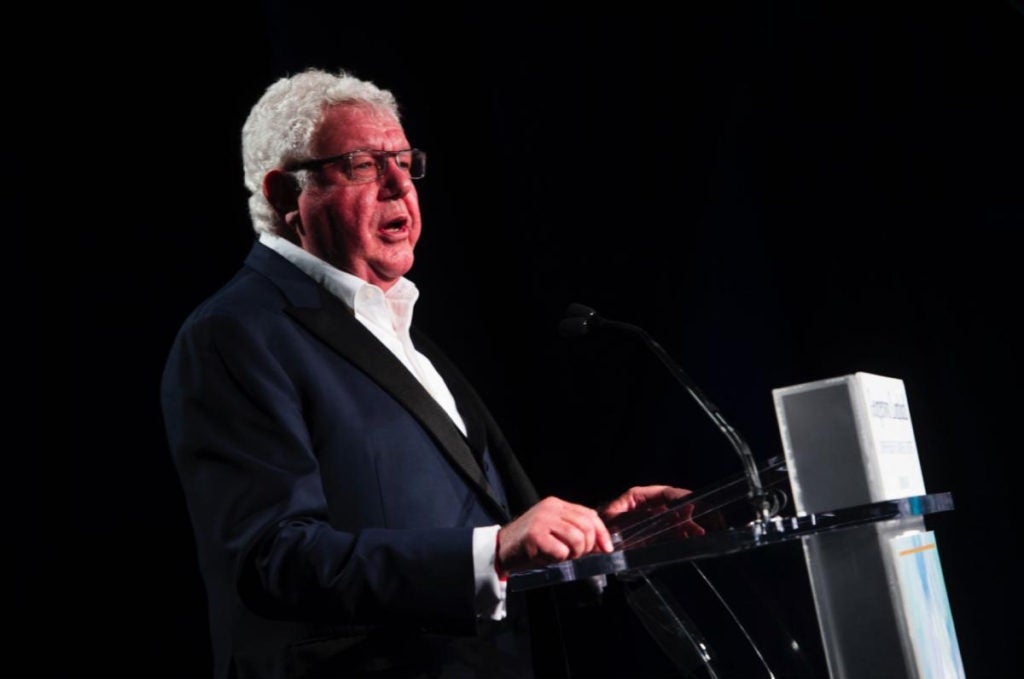 One hundred percent of the proceeds from the gala go directly to Georgetown Lombardi for cancer research, education and treatment. Since its inception, the Lombardi Gala has raised more than $25 million.
Produced by Emmy award winner David Hill, who also served as the master of ceremonies, the October 29 black-tie dinner dance at the Washington Hilton featured a cocktail reception, a renowned silent auction and a raffle for a new 2016 Lexus NX 200t Sport automobile. It also honored an award-winning sports journalist, an early-career researcher and a prolific fundraiser for their contributions to the fight against cancer.
Recognizing the Importance of Comprehensive Cancer Centers
The NFL Players Association Georgetown Lombardi Award honors a leader in sports whose life has been impacted by cancer, and who encourages cancer research, prevention and treatment through awareness and/or philanthropy. The connection between the NFL Players Association and Georgetown Lombardi grew out of a shared connection to the legacy of legendary NFL coach Vince Lombardi, who was treated for cancer at Georgetown University Hospital before succumbing to the disease in 1970. Georgetown Lombardi Comprehensive Cancer Center is named in his memory.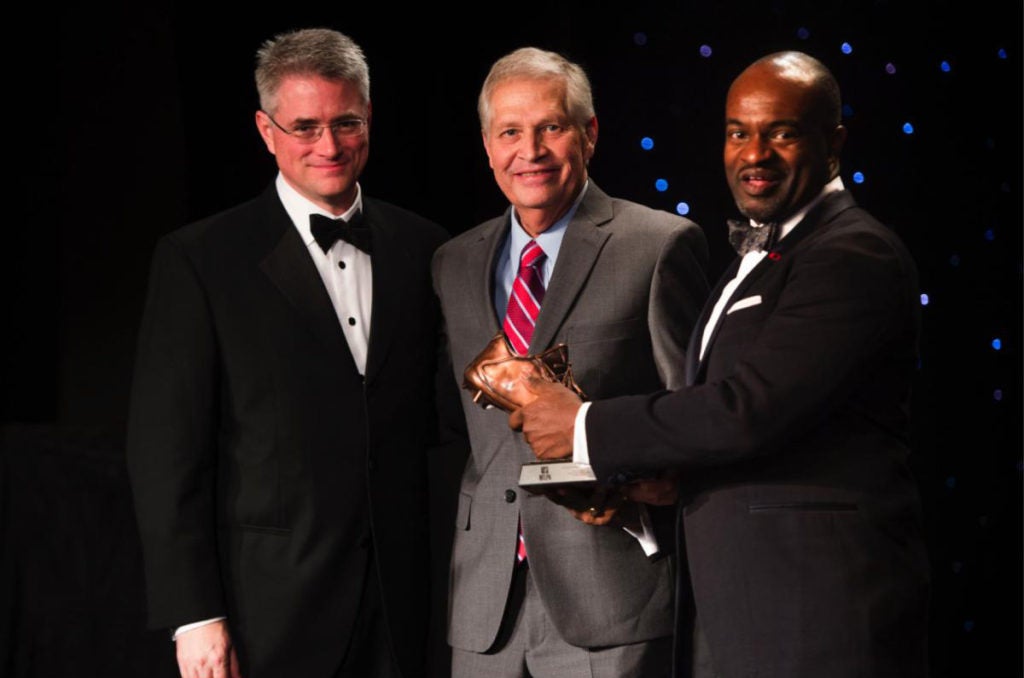 Chris Mortensen, ESPN senior analyst, announced in January 2016 that he had been diagnosed with stage IV throat cancer. Mortensen was treated with intensive chemotherapy and radiation at M.D. Anderson Cancer Center, an NCI-designated comprehensive cancer center like Georgetown Lombardi. In August, he reported that recent exams and scans have detected zero evidence of disease. Since then, Mortensen has resumed some NFL coverage on a limited basis as the 2016 season gets underway.
"I am so honored to be chosen for the NFL Players Association Georgetown Lombardi Award," Mortensen said. "I have deep, personal gratitude for comprehensive cancer centers like M.D. Anderson and Georgetown Lombardi, and I want to encourage everyone to support these centers of excellence that are leading the fight against cancer and saving lives from this insidious disease."
Louis M. Weiner, MD, director of Georgetown Lombardi, said he is pleased to honor Mortensen with this year's NFL Players Association Award because it highlights the critical work done by NCI-designated comprehensive cancer centers like Georgetown Lombardi and M.D. Anderson where Mortensen was treated.
"Comprehensive cancer centers are world class institutions that attract the best and brightest doctors, nurses, scientists and researchers," Weiner said. "When you attract the best, you do the best work. We believe that ending cancer starts here — right here at Georgetown Lombardi, where for nearly 50 years, we have been leading the way in the fight against cancer."
Supporting Early Career Researchers
Chunling Yi, PhD, assistant professor at Georgetown Lombardi, was recognized with the inaugural Georgetown Lombardi Rising Star Research Award. Since joining Georgetown Lombardi in 2011, she has led a team of researchers using mouse models to study cancer cell signaling. Throughout her tenure at Georgetown Lombardi, Yi has made discoveries that have been published and cited in leading science journals, and she has authored papers for Oncogene and Developmental Cell.
"Dr. Yi is a shining example of the types of talent that NCI-designated comprehensive cancer centers like Georgetown Lombardi are able to attract," said Weiner. "As the only comprehensive cancer center based in Washington, DC, we are thrilled to have a true talent like Yi and to honor her contributions to our understanding of cancer."
"I am honored to receive this award," Yi said. "I want to thank my colleagues and Lombardi leadership for their support and guidance throughout these years. I look forward to continuing working together with my colleagues to fight cancer and push Lombardi to the forefront of cancer research."
Honoring a Dedicated Fundraiser
Bonnie Roberts, founding vice-chair of the Lombardi Gala, was recognized with the 2016 Margaret L. Hodges Leadership Award, which is named in honor of the gala's founder and is presented to an outstanding individual who has demonstrated sustained commitment to Georgetown Lombardi.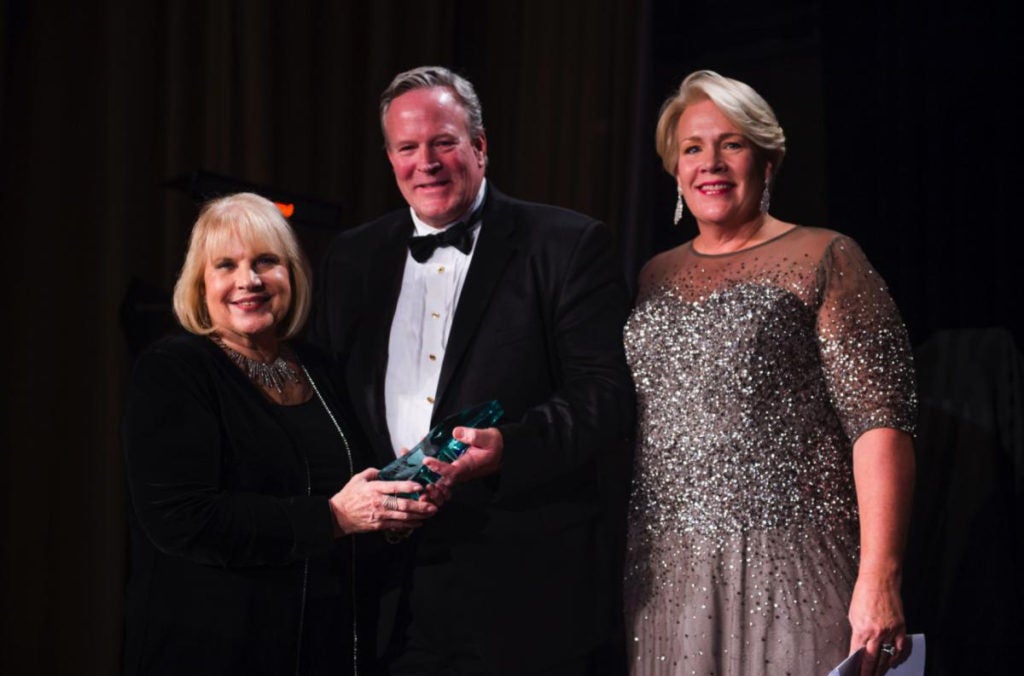 "It is impossible to overstate the importance of longtime Lombardi champion Bonnie Roberts," said Weiner. "As founding vice chair of the Lombardi Gala thirty years ago, Bonnie truly is Georgetown Lombardi, and she knows that our generous donors are the foundation of the life-saving work we do."
"Margaret Hodges is my mentor and an exceptional role model," Roberts said. "The example she set for us to follow in establishing a new gala, and bringing in friends and supporters who believed in eradicating this terrible disease, demonstrates what an outstanding person she is. I am humbled to be the recipient of such an important award."
To make a donation to support Georgetown Lombardi Comprehensive Cancer Center, please visit http://giving.georgetown.edu/what-to-support/GUMC-Lombardi.
Kat Zambon