Hackensack Meridian Center for Discovery & Innovation Research Animal Facility
Contact Information
Steven Park
Director, Laboratory Support Operations
Center for Discovery & Innovation
Tel.: 201-880-3109|Mobile: 917-575-8228
Steven.Park@hmh-cdi.org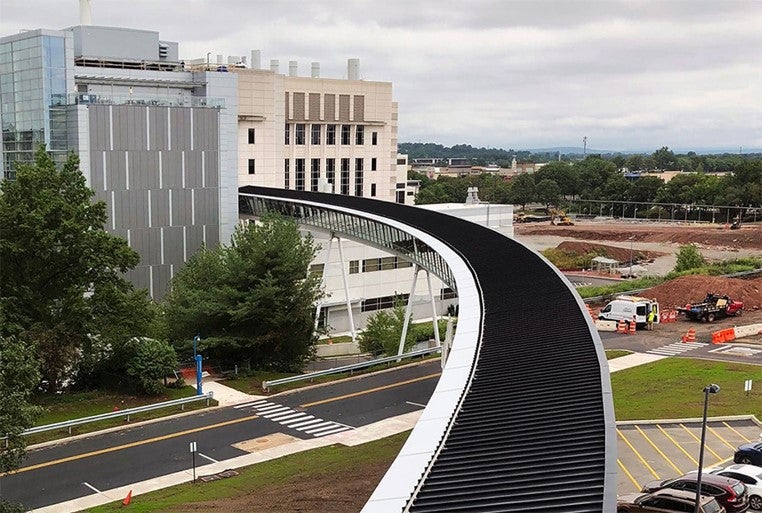 Overview
The Animal Models Shared Resource (AMSR) provides support and expertise to the the NCI-designated Georgetown Lombardi Comprehensive Cancer Center (LCCC) Research Consortium. Within this Consortium, the AMSR provides comprehensive support to researchers at both the LCCC in Washington, DC, and the John Theurer Cancer Center in New Jersey, which includes research at the Hackensack Meridian Center for Discovery and Innovation (CDI). The CDI Research Animal Facility (CDI RAF) is a newly renovated ~40,000 sq. ft. state-of-the-art complex occupying the entire 3-6th floors of the Hackensack-Seton Hall Medical School Annex building, which is physically linked to the CDI. The CDI RAF received full AAALAC International accreditation on March 5, 2020. The CDI RAF has extensive capacity for rodents (>10,000 animals; mice, rats and guinea pigs) and rabbits (60 in ABSL3) all housed in individual ventilated caging (IVC) units and handled under sterile conditions. A full-time staff supports the facility, including a RAF manager, and experienced animal care technicians trained with all housed species and capable of performing routine animal manipulations. Routine veterinary oversight occurs onsite. The ABSL2/ABSL3 RAF is dedicated to pharmacokinetics in uninfected and infected animals and pathogen-based efficacy studies. The facility consists of multiple rodent housing rooms, a rabbit housing room with custom-designed biosafety enclosures, tissue culture labs, procedure rooms, and dedicated rooms for aerosol challenge of mice, rats, guinea pigs and rabbits. Metabolic mouse cages are available for in depth pharmacokinetic, metabolism and elimination studies. Infected animals are housed in micro-isolator cages within this ABSL3 facility. A Full Body Inhalation Exposure System (Glascol) placed inside a safety flow hood is available to uniformly infect up to 100 mice per run with aerosolized pathogen inoculum. A rabbit aerosol infection system is also set up in a safety flow hood. There are several small animal operating and procedure rooms within the facility.
The HMH Institutional Animal Care and Use Committee (IACUC) oversees the CDI RAF facility. The facility also contains a dedicated floor for ABSL3 rodent and small animal studies. The facility was designed according to the latest CDC Biosafety in Microbiological and Biomedical Laboratories (BMBL) 5th edition guidelines. All biocontainment-related studies are approved by the HMH IACUC and IBC. The CDI RAF maintains 24/7/365 security. Only qualified users, as determined by the Institutional Biosafety Committee (IBC) according to the latest federal guidelines may enter the ABSL-3 RAF. Electronic door locks with pass-card access at the entrances of the ABSL3 to maintain a computerized log of all people entering the facility. In addition, 24 hour video surveillance cameras with tape back-up are operational at the ABSL-3 entrance.
Instruments available at CDI RAF include:
VisualSonics VEVO 3100 Small Animal Ultrasound Imaging System
Perkin Elmer IVIS X5 multimode imaging system (Xray, bioluminescence, fluorescence and isotopes)
Rad source X-ray irradiator
Location
Center for Discovery and Innovation – 123 Metro Boulevard, Nutley, NJ 07110
Faculty and Staff
Andrew Nelson, DVM 

Juanita Vakerich, LATG, ILAM is the Manager for the Research Animal Facility. Ms. Vakerich is responsible for the overall day-to-day operation of the RAF, including but not limited to: maintaining the department business system, security system, occupational health program as it pertains to special needs of the animal facility and RAF staff, training for the RAF staff, and procedural scheduling and billing.
Steven Park, BS is the Director, Laboratory Support Operations for the Center for Discovery & Innovation. Mr. Park's primary responsibilities involve guiding Principal Investigators and research staff to key resources to initiate and perform their studies. Mr. Park also manages the CDI Animal Research Program. He works with faculty in animal study design, budget forecasting and preparation of key animal regulatory documentation required for grants and contracts. He coordinates with the CDI Research Animal Facility (RAF) Manager and the Attending Veterinarian to ensure appropriate housing is available for all new studies and manages the allocation of RAF space for new and existing core instrumentation.
For access to the Center for Discovery and Innovation Research Animal Facility (CDI RAF), please contact: