What is an NCI Designation?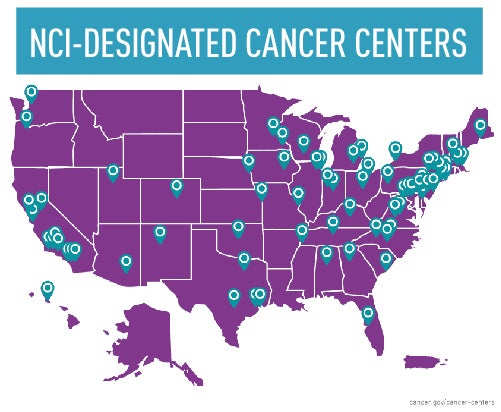 In signing the National Cancer Act in 1971, President Nixon initiated a coordinated nationwide effort to find cures for all forms of cancer by increased research to improve the understanding of cancer biology and development of more effective treatment. Central to accelerating cures was the creation and funding of National Cancer Institute (NCI)-designated cancer centers, where scientist and clinicians collaboratively aim their efforts to translate basic discovery into cures.
The NCI-designated comprehensive cancer centers were established to be national leaders in cancer treatment, research and education.
According to NCI, to gain a "comprehensive" designation, a center must meet specific criteria:
A strong core of basic laboratory research in several fields, such as biology, chemistry, immunology and molecular genetics;
A mechanism for transferring research findings into clinical practice;
A record of innovative clinical research studies in the community served by the center;
A program of high-priority clinical trials for therapies with unusual promise;
A program of cancer prevention and control research;
A program of research training and continuing education for health care professionals;
A wide range of cancer information services for patients, health professionals and the surrounding community; and
A commitment to community services and outreach activities related to cancer prevention and control.
The NCI Cancer Advisory Board, whose members are appointed by the president of the United States to oversee the NCI's programs and policies, must recommend approval for a center to receive the comprehensive designation. The center must repeat an external review of the steps above every three to five years.