Survivorship Research Initiative
Mission
The Lombardi Survivorship Research Initiative: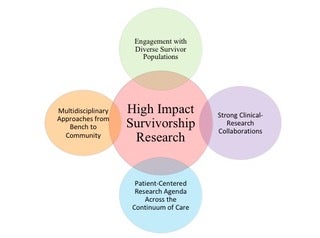 Promotes, supports and leads high impact cancer survivorship research to improve the lives of people diagnosed with cancer.
Fosters collaborations and multidisciplinary approaches that span basic science to population science.
Provides funding and project coordination support for pilot studies.
---
Resources & Services
SRI Program Personnel

Kristi D. Graves, PhD, Director

Cancer & COVID-19 Resources
Research Design & Coordination

Review of proposals (individual specific aims review; full proposal mock study section; identification of relevant funding opportunities)
Assistance with IRB protocols
Assistance with data collection, participant tracking, administrative support

Identification of Relevant Survivorship Funding Opportunities
Database Management & Data Cleaning
---
Survivorship Research Initiative Meetings
Meetings are scheduled monthly and include time for ideas and collaborative discussion. See our full meeting schedule for details.
---
Learn More
For more information about the Survivorship Research Initiative or to be added to the SRI listserv, contact us: survivorship@georgetown.edu or (202) 687-0862.
---
Reports and Recent Publications
---
Funded Pilot Studies
On an annual basis, the Survivorship Research Initiative offers resources for investigators at any career stage interested in survivorship research. To date, the Survivorship Research Initiative has funded three studies.
Learn More About Our Funded Pilot Awards
Funded Pilot Awards
"A Non-Randomized, Prospective Observational Study of Gabapentin versus Pregabalin versus Observation Related to Opioid Use for Patients Undergoing Radiotherapy for Head and Neck Squamous Cell Carcinoma."
Ahn, Harter, Rauschenberg, & Ahn
The American Cancer Society Surveillance Research estimates that about 49,670 new cases of oral cavity and pharynx cancer will be diagnosed in the United States during the year 2017, many of whom will receive radiation therapy and require opioids during their treatment course. In the United States, the abuse of opioids has reached epidemic proportions, with more than 2 million people in the United States addicted to prescription opioids and 12 million estimated to have misused these medications in 2015, prompting the Surgeon General to issue a warning and to urge consideration for non-opioid pain treatment alternatives. Radiation therapy is used either definitively or after surgery for head and neck cancer in up to 75 percent of patients with head and neck squamous cell carcinoma, and is characterized by high rates of painful mucositis and dermatitis over a 6-8 week course of treatment, with 85 percent of patients requiring opioid analgesics during radiation therapy associated with a 37 percent rate of hospitalization. This risk is higher when concurrent chemotherapy is administered. Patients often present prior to treatment with a significant amount of head and neck pain, and that this only increases during radiation treatment and persists for 3 months or more after completing radiation therapy. This pain is often characterized by both nociceptive and neuropathic components, with components that are also often consist of an affective/evaluative nature. While treatment with opioids has an effect on both the nociceptive and neuropathic components of radiation mucositis and dermatitis, there remains a population of patients who chronically require narcotics beyond 6 months after completing radiation therapy when acute symptomatology should have resolved, with a 33 percent rate of chronic narcotic use that concords with alcoholism risk in one study. Gabapentin has been used to decrease postoperative pain, and has been demonstrated to decrease numerical pain scores as well as the need for opioids in the immediate postoperative period, but at the cost of increased patient sedation. Due the role of neuropathic pain caused by mucositis, retrospective series have shown that use of gabapentin may decrease the use of opioids in patients receiving radiation without concurrent chemotherapy after surgery or receiving definitive chemoradiation. In a postoperative, adjuvant radiotherapy setting of 29 patients, the preemptive administration of gabapentin decreased the need for opioids to only 35 percent of patients when 73 percent of patients had physical examination findings of mucositis where the need for opioid use would have been expected. However, a randomized study of 22 patients (11 patients in each arm) did not demonstrate any difference in terms of opioid usage in patients who received placebo versus gabapentin, but this study may not have been powered to detect any difference due to its small size. The overarching goal of the study is to longitudinally study the degree and quality of pain related to treatment, especially radiation therapy, for head and neck cancer. The study would also compare patients receiving gabapentin (Neurontin), pregabalin (Lyrica) or no neuropathic medication prior to the onset of radiation-induced pain.
"A Pilot Lifestyle Intervention Program at MedStar's Washington Cancer Institute for Obese Breast Cancer Survivors"
Dilawari, Randolph-Jackson, Wisotzky, Power, Bolsvert, Wehner, Convit, Adams-Campbell, Dash, Graves, Ratner, & Pisek
Assessing the specific needs of obese cancer patients is critical to implementing successful survivorship programs; these factors affect outcomes from cancer as well as long-term health. The majority of breast cancer patients treated at WCI are racial and ethnic minority women living in low-income neighborhoods; the weight management and physical activity needs of a diverse patient population such as ours have been identified as challenges. WCI is an ideal location for lifestyle interventions and has community participants that are demonstrating a commitment to wellness in this population; however, no current intervention is in place at our cancer center to address obesity as a risk. This study would assess the feasibility of an on-site, multi-phased lifestyle intervention for 30 obese breast cancer survivors treated at WCI. The program would combine individual and group interventions to introduce participants to exercise and dietary modifications beginning with 1-on-1 consultations with existing providers at WCI and followed by up to 12 shared medical appointments (SMA) (Appendix A) offered weekly on-site and staffed by community partners along with healthcare providers, for up to 6 months. Data would be obtained through the RAND Short Form Survey (SF-36), the Rapid Eating Assessments for Participants (REAP-S) questionnaire, the Patient Reported Outcomes Measurement and Information System (PROMIS) Global Health Short form instruments, and feedback obtained at the SMA; physical activity would be monitored with the use of Fitbit® tracking devices and self-reporting. The last phase of this intervention would focus on participants connecting to community partners and resources in their neighborhood that would help sustain their physical activity and dietary changes long term. If feasible, this program would fulfill an unmet need for a cohesive intervention for obese cancer survivors at WCI and results from this study would contribute to the design of a comprehensive survivorship program and future research initiatives at WCI that address the unique needs of a predominantly low-income, minority patient population with high rates of obesity. The use of SMA to offer survivorship follow-up and interventions is a unique approach; assessing the benefit and feasibility of SMA will contribute to the development of the survivorship program at WCI. On-site collaboration between investigators at Georgetown University, WCI, National Rehabilitation Hospital (NRH), and MedStar Institute for Innovation (MI2) as outlined in this proposal is a strength in a comprehensive survivorship program and can lead to future survivorship research collaborations. The establishment of community partners to connect cancer survivors to free or low-cost resources in Washington D.C. is one that will strengthen a future program extending to all disease sites and will help sustain the intervention.
"Exploring Adherence to CDK4/6 Inhibitors among Metastatic Breast Cancer Patients"
O'Neill, Rini, Lynce, & Graham
Breast cancer is a leading cause of cancer incidence and mortality among U.S. women. Sixty-one percent of breast cancer cases are diagnosed at a localized stage and have a 99 percent 5-year survival rate. However, for the 32 percent of patients diagnosed with regional and 6 percent with metastatic breast cancer (MBC), 5-year survival rates are 85 percent and 26 percent respectively. There will be ~170,000 women with MBC by 2020. Advanced disease, coupled with acquired resistance to estrogen-blocking drugs, results in untreatable disease and poor prognosis for this population. Precision medicine approaches to breast cancer treatment leverage our knowledge of the genomic heterogeneity of cancer subtypes. Notable among these treatments are inhibitors of cyclin-dependent kinase 4/6 inhibitors (CDK4/6) that have almost doubled progression-free survival among MBC. The promise of these treatments has rapidly accelerated their use as first-line therapy for advanced HR+ disease. However, this significant improvement in progression-free survival comes with significantly higher rates of neutropenia, leukopenia, anemia, and fatigue. These symptoms, and the associated broader quality of life (QOL), combined with varying dosing schedules and frequent blood draws, present challenges to treatment adherence. These novel approaches to management of advanced ER+ breast cancer present themselves at the end of a decade of research that focused significant attention and resources on the assessment of and interventions to improve the initiation and maintenance of endocrine therapies. MBC patients treated with CDK4/6 inhibitors will likely face the same hurdles as early stage patients taking oral hormonal therapy alone, along with more complex regimens, challenges to QOL, and high out-of-pocket costs. To lay the groundwork for larger observational and interventional studies in this area, we propose to assess the multifactorial variables associated with early adherence to CDK 4/6 inhibitors + aromatase inhibitors in the first month of post treatment initiation. Guided by the Social Ecological Model and the literature on oral therapy adherence, we propose mixed methods research. The proposed study will lay the groundwork for future planned grants and result in the publication of mixed methods data regarding this emerging treatment regime for MBC.
---
Clinical Care Survivorship Research
Comprehensive survivorship care for patients diagnosed with any cancer type.
Self-referral or physician referrals welcome.
Contact: (202) 295-0555
MedStar Washington Hospital Center Survivorship Clinic: Director, Asma Dilawari, MD
Comprehensive survivorship care for patients diagnosed with any cancer type.
Self-referral or physician referrals welcome.
Contact: (202) 877-6998
AYA Survivorship Clinic: Jeff Toretsky, MD
Adolescent and young adult (AYA) cancer survivors
Opportunities for AYA survivorship research
The Smoking Treatment and Recovery (STAR) Program is a new clinical program for MedStar Georgetown Cancer Institute patients who are currently smoking or who have quit recently. The STAR Program is staffed by nurse practitioners and tobacco treatment specialists who provide coaching, support and medications to help patients stop smoking. Coaching and support are provided at in-person clinic appointments and by phone. In the near future, we plan to offer the STAR program to the family members of patients.
Distress Screening in New Cancer Patients: Kimberly Davis, PhD
Implementation planned across three MedStar sites
Opportunities for longitudinal survivorship research
---
Ongoing Survivorship Research
The TLC Study: Thinking & Living with Cancer
Factors influencing cognitive decline among cancer survivors
Cognitive effects of chemotherapy
The RAI Study
Symptoms following radioactive iodine therapy among thyroid cancer survivors
Lifestyle Intervention Feasibility Study for Obese Breast Cancer Survivors
MedStar Washington Cancer Institute
Interventions to promote physical activity among overweight survivors
Understanding Stigma Among Diverse Breast and Cervical Cancer Survivors
Chinese American, Latina and African American survivors
Cultural disparities in stigma associated with cancer diagnosis
Nueva Vida Dyadic Intervention Among Latina Survivors and Caregivers
A collaborative study with Nueva Vida (Alexandria, VA)
An RCT of an 8-week dyadic intervention for 135 Latina breast cancer survivors and their caregivers led to clinically meaningful reductions in anxiety and fatigue.
---
Survivorship Research at Consortium Partners
Expressive Helping Intervention: Christine Rini, PhD
Study Title: Giving and receiving: A reciprocal support writing intervention to reduce symptoms during stem cell transplant
A collaborative study between Georgetown Lombardi Comprehensive Cancer Center and the John Theurer Cancer Center (Hackensack University Medical Center, NJ)
The purpose of this randomized controlled trial is to evaluate an expressive helping writing intervention compared to a time and attention control writing task on patient symptom burden.