Lombardi Voices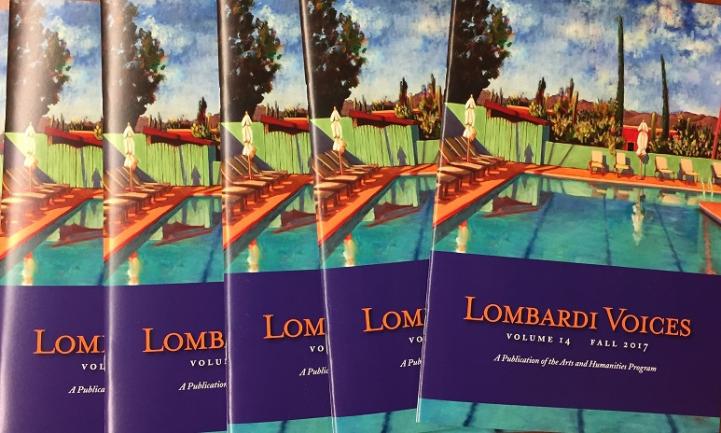 The annual Lombardi Voices, a publication of writings from patients, caregivers, staff, and community members
Lombardi Voices
Latest Issue
---
Patients, caregivers, staff and students are welcome and encouraged to write for Lombardi Voices, the Arts and Humanities Expressive Writing Program's annual publication. Lombardi Voices has become an extremely anticipated publication. Those who have submitted get very excited about seeing their name in print and sharing their contributions with the community. Those in the Lombardi waiting area love to read the submissions when waiting for their appointment.
---
Oh, no not Again!, a poem in a recent issue of Lombardi Voices, written by Marge Allen, from the perspective of her dog, Buddy.
Oh, no not Again!
"Remember me, Buddy the Cocker Spaniel, the one whose Mama "disappeared," (she lost her hair due to chemo and I did not recognize her)… she returned, thank goodness. Then my housemate, Banjo and Beagle, died last winter at age 17, I had to combine his jobs with mine, a heavy task. I kept waiting for his return, I would not sleep in the new dog beds, "the head beagle" might not like it. Time passed and I realized banjo had gone for good. Then last fall I could not find my dad! Where was he? I had heard scurrying around one morning, then Michael arrived to drive them to the ER. No Dad for 10 days into that venture Mama took me for a ride… sort of a mystery, different roads. We started this adventure as I would not eat, I was too worried … off we went.
There was Dad on a beautiful fall day waiting for us in his wheelchair…"picture this"…Mama with her rollator with ME on the leach, what a fun reunion. This solution worked, Dad talked to me from then on called me just chat. Dad came home for a visit… WHO is coming in that big van? The therapist made sure he could manage in the house, a few adjustments. I was sad to see him leave even though I took a tennis ball to him. Then Dad came for real! What a happy day! I learned not to interfere with Dad's walker and quad cane, "if only I could carry his cup and plate."
The next month involved Visiting Nurses, therapists several times a week, of course I figured they were coming to visit ME! I am very "social." After several weeks Dad could drive again, we took short walks in our community park, just like old times. While all of this trauma bothered me I moved on to taking care of them, I sure miss Banjo's help! P.S… I still won't sleep in the new dog beds!"
– Marge Allen, 2017
---
If you are interested in submitting an original poem about your experience in the hospital, please contact Morgan Kulesza, program manager at (202) 444-1171 or morgan.kulesza@georgetown.edu.
Support the Continuation of Lombardi Voices
Lombardi Voices is made possible through private and public contributions, if you would like to financially support the continuation of Lombardi Voices, please directly contact Julia Langley, Faculty Director at (202) 444-7228 or julia.langley@georgetown.edu to make a gift.